Malnourished kitten Poppy and her mum have been handed over to Cats Protection.
Little Poppy was just 14 weeks old when she was signed over to the Gosport Town Branch of Cats Protection. Her owner couldn't cope with looking after Poppy or her mum, four-year-old Josie.
Poppy was tiny – she was taken straight to the vets for a health check. She was underweight, dirty, infested with fleas and worms and had scabby fur with sore patches on her legs.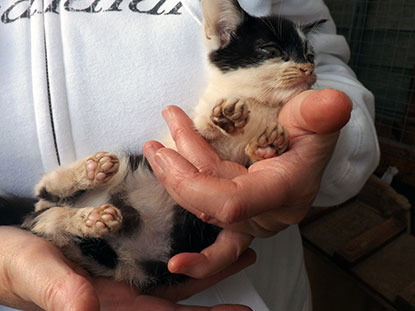 Poppy was tiny when she came into our care
With ongoing care from her fosterer Chris, Poppy's weight had increased to over 500 grams a week later, though her fur was still missing in places. She continued to be weighed regularly and had weekly vet checks because she needed to be monitored carefully. Aside from the fleas, the vet felt Poppy's skin complaint was due to a poor diet.
After two weeks in CP care, Poppy's weight had doubled. The branch said she looked a picture of health and her confidence was coming on in leaps and bounds.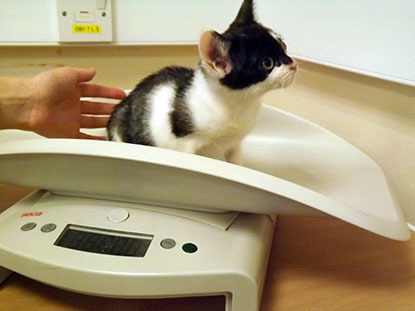 Poppy at 1kg
Fosterer Chris said: "Poppy loves to have a 'mad' half an hour in the evenings, racing around and climbing before she snuggles up my shoulder where she feels safe and content. Poppy is doing so well but still has a long way to go until she will be ready for adoption. Her weight now as a four- or five-month-old kitten is still only comparable to an eight-week-old kitten."
Slowly but surely Poppy progressed and gained weight. She was separated from her mum, so that mum Josie could have a quieter time and rebuild her strength. The vet's opinion is that Josie has had litter after litter of kittens.
The branch said: "Coming into CP care has given Poppy the chance to find a new home. She now looks and acts like any other young kitten!"
Mum Josie is doing well and has now been adopted by a new owner, while Poppy should be ready for adoption early in the New Year.