Jane Clements, Cats Protection's Neutering Manager, talks about neutering surgery recovery for your cat and how you could be eligible for financial assistance to cover the cost of cat neutering.
Do you want to know more about neutering? Yesterday Cats Protection's Neutering Manager Jane Clements hosted a live Q&A on our Facebook page. Here are some of the questions she answered:
What's the neutering surgery after-care process? 
I'm getting my cats spayed early next month and I'm worried they will pull at the stitching as they are always licking themselves. 
Your vet will advise you regarding post-operative care and it would be worth mentioning to your vet that your cats do normally lick regularly. Vets usually advise that the cat is kept indoors for a few days after surgery. There are post-operative Elizabethan collars available which your vet may give you if this is felt necessary, to stop your cats from chewing their stitches.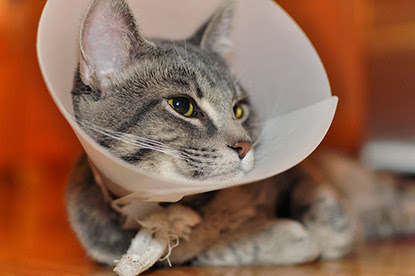 Photo by andersknudsen via flickr / Creative Commons
Are there any complications related to female cats being spayed? 
As with any surgical procedure, there are always some potential risks, which the vet will go through with you.
However, neutering is a routine procedure and anaesthetics today are very safe; therefore problems and post-operative complications would be very rare.
You can read more about the operation here.
Can you help me with the cost of neutering my cats?
I've inherited three females and one male cat from an elderly aunt who has sadly passed away. I'd let to get them all neutered but I'm on benefits, are you able to help? 
Sorry to hear about your aunt. We may be able to offer financial assistance with neutering. Please give our neutering helpline a call on 03000 12 12 12 (option 2), Monday-Friday, 9.30am-1pm to find out what support is available for your individual circumstances.
Please note that we are unable to give specific advice on your cat's health or any change in behaviour observed. For medical problems consult your vet who will have access to your cat's medical history and will be able to examine them.
Would you like the opportunity to ask a feline expert a cat care question? Don't miss the next live Facebook Q&A sessions: Cat behaviour specialist Nicky Trevorrow will be available on 21 May; vet Vanessa Howie will be answering veterinary questions on 4 June; and Neutering Manager Jane Clements will be back on 15 June. Each live Q&A takes place on our Facebook page from 2-3pm. See you there!