What it's like to foster kittens for Cats Protection.
A post from Cats Protection volunteer guest blogger and foster kitten carer, Sue Emlyn-Jones.
My name is Sue Emlyn-Jones and I have the privilege of being a kitten fosterer for the Bridgend Adoption Centre in Bryncethin and a member of the Friends group (a group of volunteers who organise fundraising events and activities to raise money for the centre).
I began fostering for the centre about six years ago, having been animal-mad my whole life, with the usual cat and dog household interspersed over the years with pet lambs, rabbits, guinea pigs, tropical fish, ponies, a couple of broken-down race-horses, two foals and the odd calf or two! Anything lost or injured would find its way to me so I think this is what I was meant to do.
We have a nine-year-old lurcher-cross called Megan and a CP cat that we adopted last year called Seren who is 13 years old, has a mild heart murmur and suffers from kidney disease. She is on a special diet for her kidneys, but has settled right in, and can wrap us around her paw with no problem at all!
I am extremely fortunate that my husband, Stephen, is very supportive of all I do with foster kittens and becomes a frequent visitor to the kitten room once they are fully active and playing.
No two days are ever really the same, but I would like to give you a snapshot of what is involved in looking after tiny kittens that are in desperate need of help. So far this year I have had 29 kittens to love and care for, each one a precious little bundle that creeps into your heart…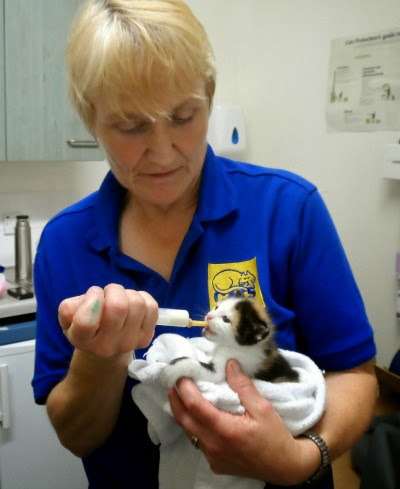 Sue bottle-feeding a kitten
In the summer of 2012, a phone call came around lunchtime: "Hello Auntie Sue…"  A short conversation later, I was hurrying to the centre – two tiny tortoiseshell kittens had been found under a hedge – no sign of mum – could I take them in? Could I? Of course!
They were believed to be only a couple of days old, but were quite a good size and weren't suffering from illness or injury. They were booked in and promptly given the names of Olympia and Torch (as it was just before the London Olympics!). They had been warmed up after coming in from the outdoors, treated for fleas and given a small amount of kitten milk by one of the cat carers.
A few minutes later we were homeward bound with a few tiny squeaks from the carrier next to me. Once home the usual routine followed – I always weigh the kittens, sex them and note markings down. They were fed, stimulated to pass motions, (sorry guys, you have to be a proper mum and do what a mum would do!) winded, and finally settled into a clean warm bed over a heated pad. Time, amount of feed, all details about the feeding and motions are noted in my kitten book, which are later fed into a computer database.
Room temperature is also extremely important, as tiny kittens will feel the cold when removed from their siblings at feed time, so must be kept snuggled up and warm at all times.
I also have a baby monitor which I have found really useful, as I can keep a close eye on the kittens without disturbing them and can pick up on any potential problems extremely quickly.
About an hour later, the kittens are fed again; they were hungry but were taking a long time to feed as their sucking reflex was not strong. Care has to be taken or the possibility of inhaled milk into the lungs is a distinct concern – as this can develop very quickly into pneumonia and become fatal within hours.
Sometimes if tiny kittens are very poorly, they will only take a drip or two of milk every 15 minutes until they are strong enough to suck a little. Gradually the amount they feed will increase until they are fed half-hourly then hourly and a week or so later they will be feeding two hourly throughout the day and night. By the time they are about four weeks old they will be having feeds every three to four hours and have had a gradual introduction to weaning – after a few weeks they will be eating sufficient meat and biscuits to be able to leave their bottles behind.
Hygiene is paramount: everything used for the kittens must be sterilised and all bedding must be washed separately and treated with special disinfectants. The room, cages and carriers are all steam cleaned to prevent any contamination. The kittens must be kept in a room to themselves and ensure any pets in the household do not come into contact with them – any illnesses can otherwise easily be passed from one to another and obviously with tiny kittens that have had minimal feeding by their mum will not have received much in the way of antibodies to protect them. They are highly vulnerable to any potential infection.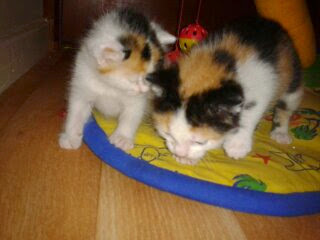 Five-week-old kittens Olympia and Torch
I won't say that kitten fostering is easy, far from it, and it is always a rollercoaster emotionally, as they are so tiny and vulnerable. Kittens can go from being happy and healthy to being extremely unwell and in some cases near death, within an hour, so vigilance and patience are the watchwords always, but the rewards are immense. Seeing a tragically ill kitten develop into a healthy free spirit is worth every second of sleep deprivation and anxiety.
If you have the time, love and compassion, please think about fostering. You don't have to take on a tiny kitten to bottle feed, there are many older kits that just need time to help them transition from bottle to meat, or anxious cats that just need a little love to help them settle into a new home. Believe me – you will never regret it!
If you would like to learn about volunteering with Cats Protection and find opportunities in your area, visit our volunteering pages.