Mya, a little cat found in a factory was about to be taken in by our Glasgow Branch when one of the factory workers fell in love with her.
Sometimes one of our branches is preparing to take a cat into care when someone steps in to rehome them.
That's just what happened with Mya (now Katya) the Glasgow factory cat. Her story is so heart-warming we had to share it with you!
Earlier this year our Glasgow Branch took a call from a company called Howden Compressors. A little cat had appeared at the factory one day; the staff thought she must be a stray as she was so friendly.
Two of the office workers started feeding the pretty tabby, tortie and white cat and Mya was content to stretch out in the smoking shelter, wandering into the factory in bad weather.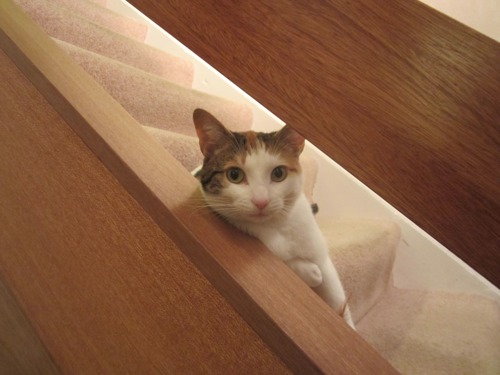 Katya has a comfortable new life, thanks to her kind owners
Our Glasgow Branch supported and advised the staff while they tried to track down Mya's owner. While the vet found she was microchipped, her owners did not want her back. So Glasgow Branch prepared for Mya to come into their care.
Howden Compressors' staff had grown fond of the little cat, though, and before that was necessary one of the company's staff came forward with an offer to adopt her. "We had kept cats previously," says Jim Baillie. "It was a while since our last cat died so we decided to take Mya. She seemed very friendly and house trained.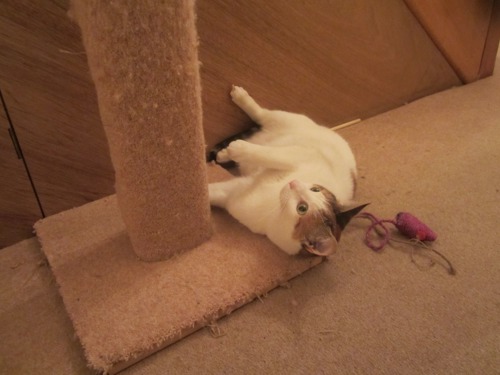 Katya's factory days are behind her
The cat, renamed Katya as Jim's neighbour already had a cat called Mya, is enjoying her easier life in Paisley.
"She is a very inquisitive cat," says Jim. "As soon as a cupboard door is opened she is straight in to investigate and rummage around!"
He adds: "Katya appears to have settled and is happy to go out to explore the garden and golf course… her favourite place to sleep is on my son's computer chair. She jumps up as soon as my son gets off the chair and glares at him if he wants back on!
"Katya appears to be happy staying with us and we are happy to have her."
To support CP's work helping abandoned and unwanted cats, just click here.