Why you shouldn't overfeed your cat: overweight Dixie is more than double the recommended bodyweight for a cat.
*Update - 30 September 2020*
Obese cat Dixie has managed to lose a fantastic 2kg (3lb) since August, bringing her weight down to 9kg (1.4 stone).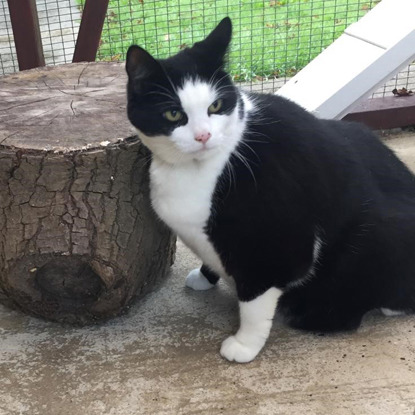 She's become a lot more playful since shifting the pounds, and loves charging round her large pen at the centre. As you can see from the video below, she has no trouble fitting through the cat flap either!
Dixie has a little bit further to go before she can leave the centre, as the team would like to get her down to a more manageable 8kg (1.2 stone) before she can be put up for adoption. However they're sure she'll have no problem reaching that next milestone and will be snapped up straight away as she's such a cutie.
Read on for our original blog post about Dixie...
A massive moggy weighing in at a whopping 11 kilograms (1.7 stone) – over twice the recommended bodyweight for a cat – has prompted Cats Protection to warn owners not to overfeed their pets.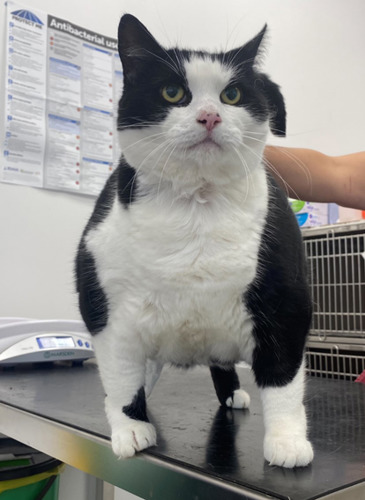 Six-year-old Dixie arrived at Cats Protection's Bredhurst Adoption Centre and stunned the team with her enormous size.
"We come across obese cats every so often but Dixie is one of the largest that we've seen," said Adrian Ferne, Centre Manager.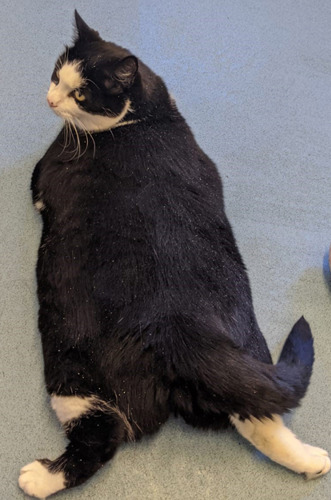 "Her sheer size means she's unable to clean herself and she's at significant risk of conditions such as arthritis and diabetes, so it's important we help her to slim down.
"Dixie was brought to us along with another cat who is a healthy bodyweight so we suspect she was a bit of a favourite in her previous home and indulged a little more often. She's certainly very affectionate and friendly.
"While it's ok to pamper our pets every now and then it's also important not to overfeed felines as it will do more harm than good."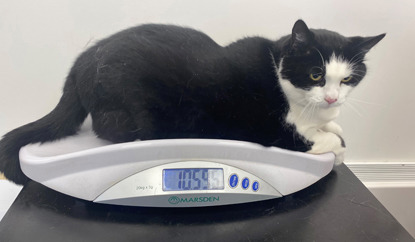 The team at the centre are now helping Dixie with a special diet and exercise regime to shed pounds safely and take her out of the red zone.
Once they are happy with her progress, Dixie will be put up for adoption and her new owners will help to ensure she continues on her weight-loss journey.
Is my cat overweight?
Overweight cats are usually defined as being more than 15% over their ideal weight (usually 3.6kg (8lb) for the average adult cat). Obese cats are more than 30% over their ideal weight
You should be able to feel your cat's ribs easily when you stroke them gently and you should see a clear waistline when you look at them from above
Cats between two and 10 years old are most at risk of becoming overweight as they use less energy
Cats who have been overweight in the past are more likely to gain weight in the future, so their diet and exercise should be carefully monitored
For lots of help and advice on how to keep an overweight cat healthy, visit https://www.cats.org.uk/help-and-advice/diet/cat-obesity