Kitten watch: Find out the names of Daisy's newborn kittens!
Follow the progress of Daisy and her kittens over the next few months with our kitten watch series.
The four tiny new arrivals at Cats Protection's Bridgend Adoption Centre are now one week old and all doing well thanks to the devotion of their mum, Daisy.
Daisy seems to be enjoying motherhood and his been providing her kittens with plenty of attention and 'cwtches' (Welsh for 'cuddles'), as you can see in the photo below.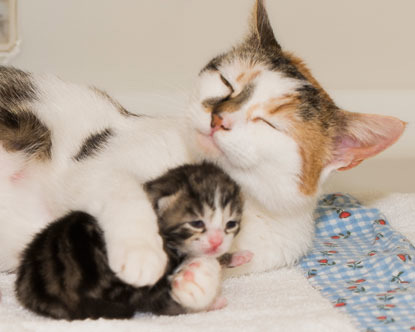 Proud mum Daisy cuddling one of her kittens
Shortly after the kittens arrived, the Bridgend Adoption Centre asked for name suggestions on their Facebook page, and have now chosen the winning names. There's one male kitten and three females, and their names are inspired by their date of birth, 1 March.
Dewi – Welsh for David, as it was St David's Day
Emma – as the UK was being battered by Storm Emma
Eira – Welsh for snow, as the centre was covered in a blanket of snow
Daffodil – as it was the first day of spring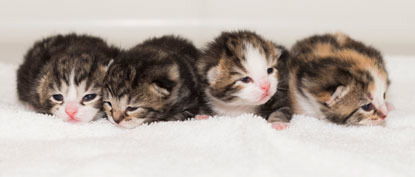 Left to right: Dewi, Emma, Eira and Daffodil
Each kitten has had a check-up from the vets and been declared fit and healthy, and they are already starting to crawl around on their own. Their eyes began to open when they were four days old (quite early for kittens!) and their ears are beginning to stand upright. Interestingly, all kittens are born with blue eyes which change colour when they are around six weeks old.

The kittens have had a complete health check
The kittens are feeding on their mother's milk every two to three hours, and to ensure she passes on plenty of nutrients, Daisy herself is being fed regularly with nutrient-rich kitten food.
Over the next few weeks and months, we will keep you updated on Daisy's and her kittens' progress, but if you would like to help towards the cost of her care at the Bridgend Adoption Centre then you can sign up to become a Cats Protection sponsor. Daisy is one of our many sponsor cats, so from as little as 19p a day you can sign up to help us provide her with the shelter, food, medical care and love she needs and receive regular updates about her and the other cats you are helping in return.
Alternatively, if you would like to make a one-off contribution to Daisy's care, you can donate via Bridgend Adoption Centre's Just Giving page.
Although the arrival of kittens is exciting, giving birth can be incredibly stressful for a cat and the kittens would need to find new homes, so we recommend getting them neutered from four months old. There are already thousands of cats waiting to find loving homes across the UK, so neutering is the most effective way to reduce the number of unwanted cats coming into our care. Find out more about the importance of cat neutering.