Kitten watch: The kittens are nearly eight weeks old and will soon be looking for loving homes.
Follow the progress of Daisy and her kittens with our kitten watch series.
The kittens at Cats Protection's Bridgend Adoption Centre are nearly eight weeks old, the age when they will be ready to find their forever homes.
They have now been permanently separated from mum Daisy and are enjoying their independence, spending most of their time playing with boxes, balls, toy mice and fishing rod toys.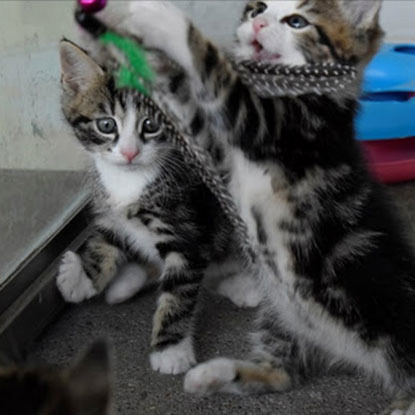 The kittens love playing with feathered fishing rod toys
Playing is important for developing the kittens' balance and eye-paw coordination as well as satisfying their natural predatory behaviours. However, they must be taught to play with appropriate cat toys to prevent inappropriate play behaviour when they are older. If kittens are encouraged to play with their carer's fingers or toes, this will cause them to associate hands and feet with play. While this is relatively harmless when they're small kittens, as they become older, this activity will be very painful for the person on the receiving end and can be dangerous if directed at children or the elderly.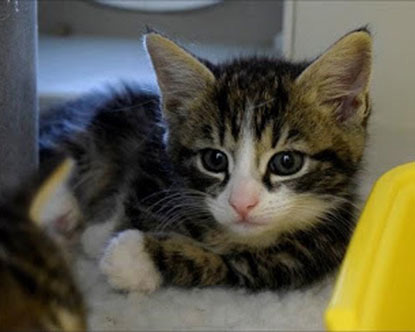 Dewi have a much-needed rest
Cats should be encouraged, and given the opportunity, to play throughout their lives, not just when they're kittens. Not only will this help to build a bond between the cat and the owner, but it will also provide important exercise for the cat and cause the release of endorphins (happy hormones) in their brain.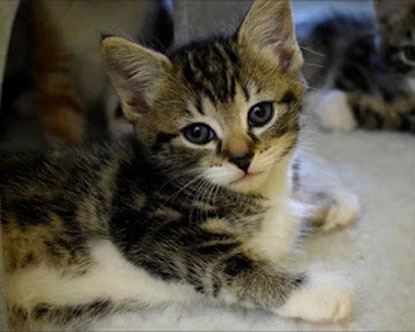 Emma likes to snooze after playtime
After running around their pen the kittens will often fall asleep exhausted in an instant. Just like human babies, kittens need lots of sleep to aid their growth and development, so it's important not to wake them while they're snoozing.
Meanwhile, now in her own pen, Daisy has been enjoying some time to herself now the kittens are independent.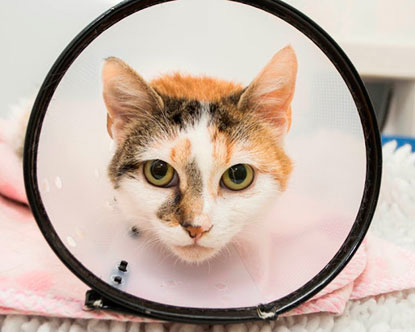 Daisy is recovering well from her operation
She's also recovering from her recent neutering operation, meaning she won't have to worry about raising any more litters in the future. Neutering also has many health benefits so she is now less likely to get certain diseases through mating and her risk of developing certain cancers is reduced.
Soon the kittens will also be off to vets again, ready for their first vaccinations and final health checks to prepare them for rehoming.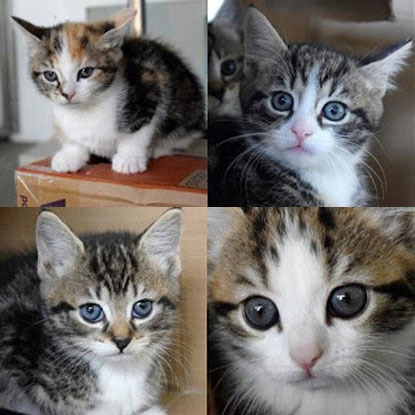 The kittens are nearly ready to find their forever homes
If you would like to offer Daisy or one of her kittens a home, you can call the Bridgend Adoption Centre on 01656 724 396 or email bridgend@cats.org.uk
Please note that cats cannot be reserved over the phone so anyone interested must go to the centre to reserve them in person. For more information about the centre, visit www.bridgend.cats.org.uk
If you would like to help towards the cost of Daisy's care at the Bridgend Adoption Centre then you can sign up to become a Cats Protection sponsor. Daisy is one of our many sponsor cats, so from as little as 19p a day you can help us provide her with the shelter, food, medical care and love she needs and receive regular updates about her and the other cats you are helping in return.
Alternatively, if you would like to make a one-off contribution to Daisy's care, you can donate via Bridgend Adoption Centre's Just Giving page.
Although the arrival of kittens is exciting, giving birth can be incredibly stressful for a cat and the kittens would need to find new homes, so we recommend getting them neutered from four months old. There are already thousands of cats waiting to find loving homes across the UK, so neutering is the most effective way to reduce the number of unwanted cats coming into our care. Find out more about the importance of neutering.