Two tiny kittens had a lucky escape after they were discovered hidden on an abandoned estate in Everton due for demolition.
When the residents of an estate set for demolition in Everton moved out, a kind cat-lover regularly returned to feed a feral cat that had settled in the area.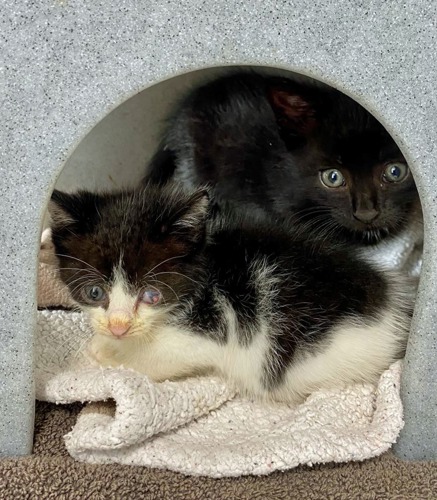 Angel (black-and-white) and Clown (black) safe in our care
They called in Cats Protection's Everton Cat Watch team to help with the cat so they could be trapped, neutered and relocated to a safe site before the demolition started.
As the team of volunteers lay down humane traps to catch the cat, they stumbled on two kittens huddled together at the back of the bins.
Given the names Angel and Clown, a vet assessed them to be around six or seven weeks old and both were infested with fleas and underweight.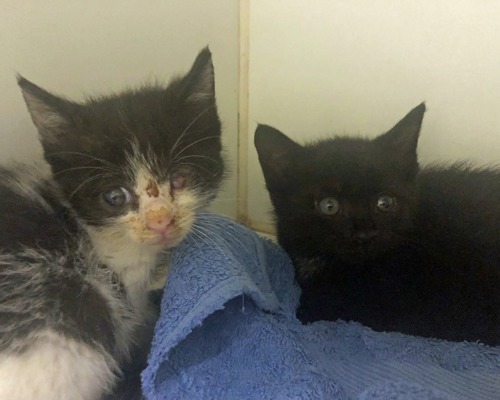 Angel and Clown shortly after their rescue 
Black-and-white Angel was also suffering from a poorly eye which may have been the result of a congenital defect or injury. Unfortunately, the eye cannot be saved and at just 350 grams Angel is too little to be put under anaesthetic.
Once he has put on weight he will able to tolerate the operation and until then the pair are being cared for by one of St Helens Adoption Centre's volunteer fosterers.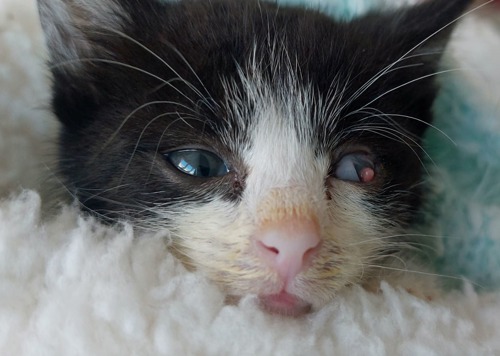 Angel's poorly eye 
The centre has launched a fundraising appeal to help pay for Angel's operation, and you can make a donation on their JustGiving page. 
St Helens Adoption Centre Manager Kerry Kendrick said: "It was so fortunate that Angel and Clown were spotted and picked up, it's awful to think what could have happened to them.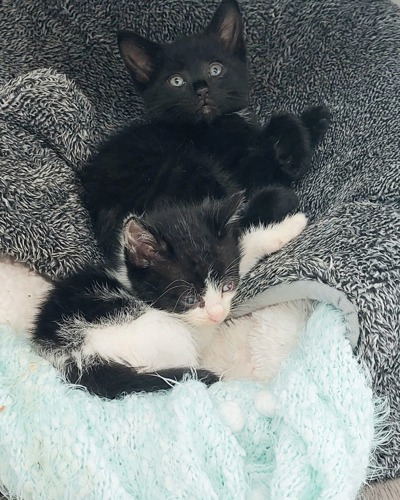 Angel and Clown will be rehomed once they're fit and healthy
"These tiny two have already shown immense resilience to survive alone in the outdoors and are growing stronger by the day. We are hopeful that once Angel undergoes and recovers from his eye operation, they will become loving family pets. They are so adorable and really do deserve another chance at a happy and secure life.
"We are extremely grateful to anyone who can contribute the JustGiving appeal, every penny counts and we really couldn't carry out our vital cat work without our amazing supporters."
The Everton Cat Watch scheme supports communities to improve the lives of stray and feral cats, neutering feral and community cats and returning them to where they feel safe, and rehoming friendly strays unsuited to life on the streets.