Over a quarter of cats have gone missing but most aren't microchipped.
Shocking research has revealed that less than a third of pet cats are microchipped and one in four have no identification at all.
June is National Microchipping Month so we're calling for new compulsory microchipping laws for cats as well as dogs.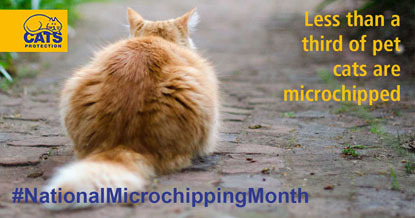 With over a quarter of owners reporting that their cat had gone missing at some point and nearly 40% relying only on a collar for identification, the survey shows why cats would lead safer, happier and healthier lives if owners were legally required to have them microchipped.
"Every year thousands of cats go missing. This is heartbreaking for owners and means that cats which become lost and injured may never be returned to their homes. In the case of cats which require ongoing medical treatment or need a special diet, this can have a devastating effect," said Beth Skillings, Cats Protection's Clinical Veterinary Officer.
"Microchipping is a simple and cheap procedure which gives cats the chance to be safely and quickly returned to their owner. Collars can cause serious injury and can come off and get lost, whereas microchips are quickly and permanently inserted under the skin."
While the success stories are a happy ending for some cats, many more are never reunited with their owners so it's so important that they are microchipped.
Our national Facebook and Twitter pages will be focusing on microchipping throughout June using the hashtag #NationalMicrochippingMonth.