Writer and broadcaster Andrew Collins reveals what it's like to be a National Cat Awards judge.
Writer, broadcaster and formerly jaded awards-goer Andrew Collins reflects on judging Cats Protection's National Cat Awards.
If my professional life in the London media bubble can be measured out in anything, it's probably smoked salmon parcels with dill and horseradish. Such is the hard-knock life of the habitual awards-goer. In the 90s, when I was on the staff of grown-up rock monthly Q, our publisher's in-house annual prizegiving was a rowdy affair. As well as Q, Heat, Empire, Grazia, Classic Cars and Trout Fisherman, they also published animal magazines. And whenever the cover of Your Cat* or Your Horse was flashed up on the big screen, the Q table would should out: "That's not my cat!" or "That's not my horse!"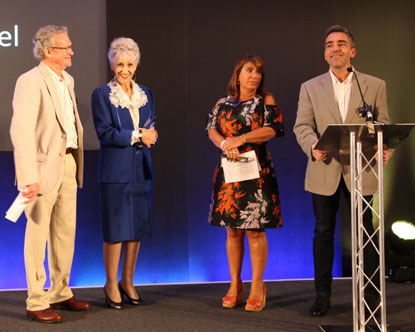 Paul Copley, Anita Dobson, Jo Hemmings and Andrew Collins presenting the 2017 National Cat of the Year award. Credit: Charlotte Fielding Photography
Frankly, it was a coping mechanism. Industry awards ceremonies – and many of you will have endured them – can be an endurance test, as they go on forever. Which is why, two years ago, I jumped at the chance when I was invited to judge the National Cat Awards. All previous cynicism was washed instantly away. The very idea of an award for cats seemed pure – Purina®, even – honest, decent, selfless and without ulterior motive. Cats Protection was a charity I'd supported for years. Now in its 91st year, it does exactly what it says on the just-opened tin: protects our feline friends without prejudice, seven days a week, 24 hours a day, rescuing, rehoming and rehabilitating cats, who in turn bestow their unique brand of independent love upon us by ignoring us. Our own cat, Gerry, who adopted us for his retirement, has yet to acknowledge the existence of the clockwork mouse I brought home for him after last year's ceremony. It's his highest compliment.
In my first year I judged a specific category – Most Caring Cat – but last year and this one, I'm on the panel that democratically decides the overall winner (unless the result has been meddled with by the Russian blues). It's a gruelling task, as the shortlisted cats and their humans all deserve to win, but every pageant needs its king or queen. It's a tingly sort of day. If you tell people what you're doing, they immediately assume there will be cats. On the contrary, the ballroom at London's famous Savoy hotel will be cat-free. All the contestants are on film. It's the humans who get a free lunch and the chance to mix with like-minded souls of all ages, backgrounds and situations, with we "celebrity" judges dotted around (I use speech marks only around my own "celebrity"). There is only one subject of conversation and I think you can guess what it is.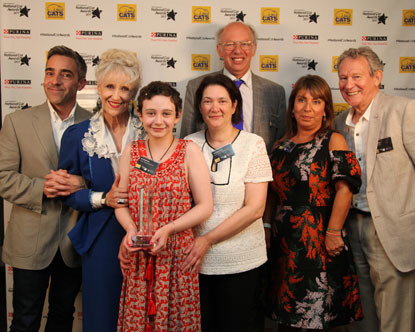 Andrew Collins (right) with Evie Henderson and her mum Tina (centre), owners of 2017 National Cat of the Year Genie, Cats Protection's ex-CEO Peter Hepburn and the rest of the celebrity judging panel. Credit: Charlotte Fielding Photography
People get understandably emotional when the cats' stories are shown on the screen, or when humans are honoured for their tireless work, and the Savoy becomes a rather grand 'safe place' for those with something in their eye. Last year, the volunteers of Deeside Cats Protection were on my table, and when they won the Star Team Award for their selfless work rescuing 25 cats after Storm Frank hit the village of Ballater, their coordinator, Liz Robinson, was in bits. Anyway, she held up well once on the stage, as did all the winners. There is, to coin a phrase, a lot of love in the room.
That I have been singled out as someone eligible to choose which cat is better than another cat is almost random. I'm just a cat lover like you are. The same goes for regular judges Anita Dobson, Rick Wakeman and Downton star Paul Copley, and returning MC Alan Dedicoat.
Your Cat is still going, albeit published by a different company than the one I used to work for. But when each winner is announced and shown onscreen this year, I'd like to think that at least one person will shout out, "That is my cat!" Worth sneaking the salmon parcel home in a napkin, I'd say.
The star-studded National Cat Awards ceremony, sponsored by Purina®, will take place at the Savoy Hotel in London on Thursday 2 August. To find out more and meet the nominees, visit https://www.cats.org.uk/nca.
*Editor's note: Other cat magazines are available.