Scared cat finds the new home he deserves.
Tommy was so fearfully aggressive when he first came into CP's care that he unnerved vets. He attacked his experienced Fosterer, and she had to be treated at hospital.

But Yvonne Wood, a Fosterer at CP's Epsom and Ewell Branch, knew by instinct that if she persisted with the long-term stray, he would eventually make a lovely pet.

"He wasn't an aggressive cat, he was terrified," Yvonne says. "I wasn't going to give up on him."

Tommy had first appeared in the garden of the Branch Co-ordinator Helen Fisher in early 2012. She fed Tommy, gained his trust and managed to trap him, before taking him to Yvonne.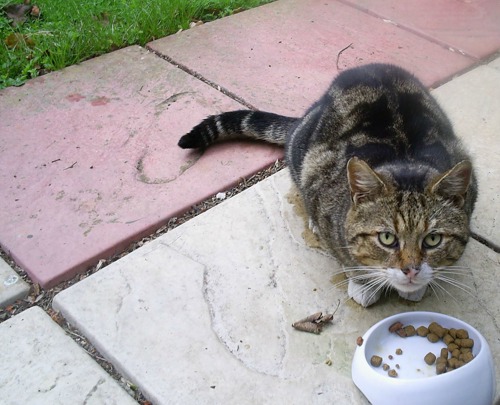 Tommy appeared in Co-ordinator Helen Fisher's garden
The tabby tom was taken for all his vital veterinary checks, vaccinations and neutering, but didn't like these excursions so home visits were arranged instead. He didn't appreciate these, either – on one occasion bashing a bowl of biscuits out of a visiting vet's hand!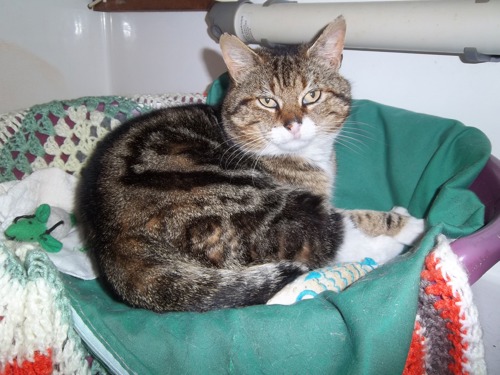 CP Fosterer Yvonne gradually gained Tommy's trust
Little by little, Yvonne used her decades of cat fostering experience to help transform Tommy into a friendlier animal. She started by talking to him quietly and getting him used to her presence. After a while, Tommy let Yvonne stroke him.Yvonne says: "He had never taken any notice of his toys before, but he started to play with them. Over the following five or six weeks the change in him was remarkable."

One day, Yvonne received a phone call from a lady who'd previously rehomed CP cats. Sue Jones's cats had died, and she and her husband were looking for a new feline friend.

The pair arrived at Yvonne's house expecting to look at some kittens, but were pointed in the direction of a rather different sort of cat. Burly Tommy trotted across to say hello to them, and they were smitten.

"I looked at this great tabby bruiser who'd been with Yvonne for several months and I thought well ok, he wants to come and live with us," Sue says. Tommy's history didn't worry Sue – she was used to caring for challenging cats.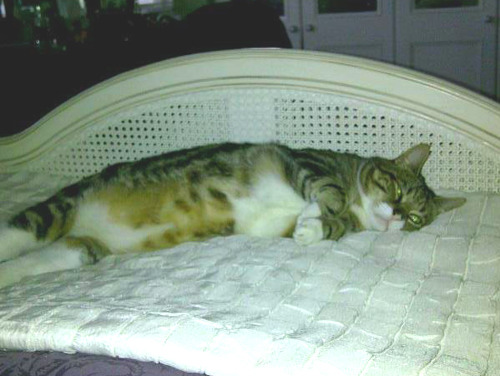 Tommy loves his new home
Tommy went to live with his new owners in November and – after spending the first day hiding behind the sofa – started to explore his new home. While Tommy ventures outside occasionally, he's more content to curl up with his owners indoors – and who can blame him?

To help us care for more cats like Tommy, support us here.