"Little star" Walter alerts his owner to life-threatening diabetic attacks.
For Hazel Parkyn, from Swadlincote in Derbyshire, her cat Walter is a lifeline, warning her when she's about to suffer a diabetic attack.
Hazel was left with PTSD, head injury seizures and auto immune conditions, including type 1 diabetes, after she was attacked by a patient while working as a psychiatric nurse ten years ago.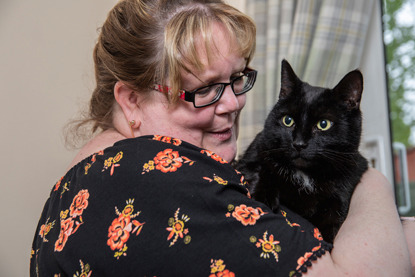 Three years ago a second bleed on her brain triggered a rare form of fitting which causes her to suffer flashbacks, during which she is sometimes forced to relive her attack. Such flashbacks can leave Hazel feeling vulnerable and unsettled.
In addition to this, Hazel also suffers from potentially life-threatening diabetic attacks at night. However, whenever this happens, Walter alerts her up by patting her on the face and meowing until she wakes up.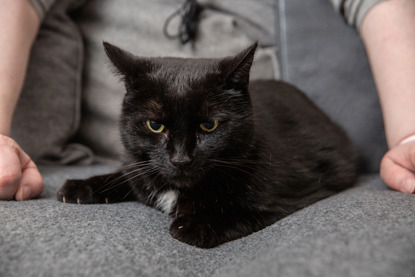 Although some animals can be trained as medical emergency detection pets to alert their owners, Walter has received no such training.
Walter's life-saving actions were honoured at Cats Protection's National Cat Awards 2019 when he beat hundreds of other entries to be selected as one of three finalists in the Hero Cat category, for cats that save the day.
As well as celebrating Walter's heroic nature, Hazel said that being part of the awards helped her rebuild her confidence.
Hazel said: "Walter is so named as we thought he was a bit of a wally. He's always in trouble, is well known at the vets and walks like John Wayne. However he's not a wally at all, he's a little star.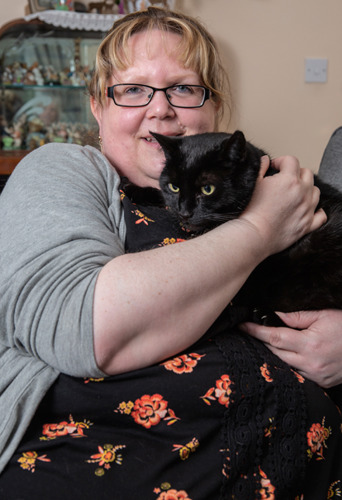 "Walter really is a remarkable cat and may have saved my life many times over. When my blood sugar runs low it can be very serious, especially if I'm asleep as I may not be able to wake up.
"Yet Walter can sense when this is about to happen and will repeatedly pat me on the face until I wake. He won't stop until I've woken, he really is very persistent. He'll then sit with me while I get my sugar levels back to normal.
"Walter is more than just a cat to me, he's my lifesaver."
Let us know what your marvellous moggy means to you with #MoreThanJustACat and discover more heartwarming stories at https://www.cats.org.uk/support-us/our-latest-campaigns/my-cat-is.