Vet Sarah Elliott advises cat owners on health topics including why a cat might be losing weight and the common causes of cats' tummy troubles.
Every few weeks a feline expert takes charge of our Facebook page, answering live questions from cat owners. Most recently, CP Vet Sarah Elliott advised supporters on veterinary queries.
I have a male cat who is nearly 12 years old. He is always hungry but he seems to be losing a lot of weight.
He has been wormed recently. Do you think there's something wrong?
Thanks for your question. Increased appetite along with weight loss can be a worrying sign, so I'd recommend taking your cat for a check-up to rule out other causes for this, other than anxiety. Our elderly cats advice provides lots of information on this subject (read it here). There are many health problems which can be easily diagnosed in elderly cats and then managed with medication. I would advise that as your cats get older that they have more regular check-ups at your vets, for example every six months to check their health.
I was wondering if you could tell me why my cat is losing her hair on her belly?
Can you tell me what to do please?
Your cat may be losing hair on her belly for a variety of reasons. The first step is to make sure she is up to date with her flea treatment. Use a good quality flea treatment as recommended by your vet, treat all in-contact animals at the same time and treat every month. There may be other reasons for the hair loss, some of which are summarised here. I'd recommend a trip to your vets to try to pin this down.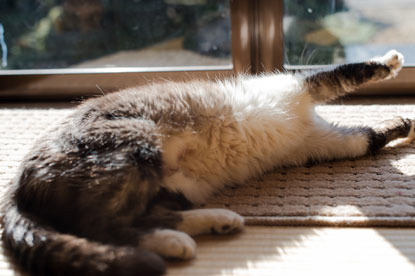 Photo by Takashi Hososhima via flickr / Creative Commons
We just adopted our cat from Cats Protection and we are introducing her to going out at the moment.
She has been out for few mins and comes back in again, but she just prefers to stop in the house most of time quite happily. Should we persuade her to go out more or will she eventually do it in her own time?
It's lovely to hear that you have recently adopted a cat from CP. It can take time for a cat to start to feel safe in their new territory. Letting her lead the way in her own time is the best course of action. Have a read of our advice on welcoming your new cat home to help her become used to her new surroundings.
Any ideas on sorting out a cat with very loose stools?
She is 15 and I have taken her to the vets, tried a grain free food, dry food, rice and chicken and she is still the same. I don't know how long she has been like this as I inherited her after my mum died two years ago. She is not sick but it's not very nice.
I'm sorry to hear about your cat's gut trouble. Diarrhoea in cats is very common, and stress can often contribute. Diet trials can be a drawn out process and vets generally recommend sticking to one hypoallergenic diet for three to four months (it can take this long to take effect). You may find our leaflet helpful: Digestive disorders – vomiting and diarrhoea.
Veterinary note: Please note that we are unable to give specific advice on your cat's health or any change in behaviour observed. For medical problems, consult your vet who will have access to your cat's medical history and will be able to examine them.
Would you like to ask one of Cats Protection's feline experts a question about your cat? Don't miss the next live Facebook Q&A sessions: Behaviour Manager Nicky Trevorrow will be hosting on 7 July; Vet Sarah Elliott returns on 13 July; and Neutering Manager Jane Clements will be taking questions on 4 August. All Q&As are held on Cats Protection's national Facebook page from 2-3pm. See you there!