The dedication of a wonderful volunteer at our Wrexham Charity Shop.
This post has been written by Myra Allison, Publicity Volunteer at Cats Protection's Wrexham & District Adoption Centre
The shop is often the first point of contact for any charity and in the Wrexham Cats Protection Charity Shop we aim to give a friendly and warm welcome to our customers, encouraging them to return to the shop, to purchase goods that help fund the Wrexham & District Adoption Centre.
The longest-serving volunteer in the Wrexham Charity Shop (15 years!) is Delia Jackson. This popular lady is always very helpful to customers and is known for going that extra mile to find items customers ask for, to which she says "it's all in a day's work for Cats Protection".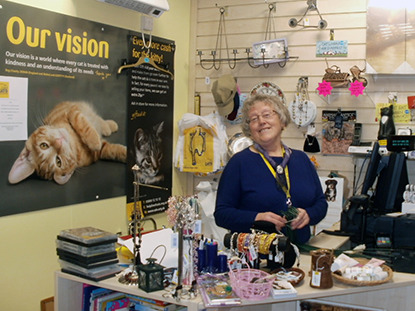 Long-serving volunteer Delia Jackson
It was not surprising then, when a letter was sent to the shop by a grateful customer thanking Delia for her help. This letter told the story of a customer who came into the shop when Delia was working, and asked if she could sit down as she felt unwell.
Delia, chair to the ready, made the customer comfortable and she soon began to feel better. After a cup of tea and before leaving the shop, Delia offered to take the customer's blood pressure with a blood pressure machine she'd been checking that had just been donated to sell.
The customer's blood pressure reading was very high on this machine, Delia didn't tell her how why so not to worry her, but advised the lady to visit her doctor and have her blood pressure checked. The customer left the shop with her purchases, feeling better and thanking Delia for her kindness and care.
A few weeks passed by and then a letter was sent to the Shop Manager Sharon Jones, thanking Delia so much for looking after her and her good advice. The customer did go to her doctor and is now taking tablets to control her high blood pressure, which she was previously not aware of.
Delia said: "We always try to help whoever comes into our shop in whatever way we can, so it was all in a day's work for Cats Protection".
Well done Delia, another very satisfied customer who was pleased that she came into the Wrexham Cats Protection Charity Shop that day in more ways than one.