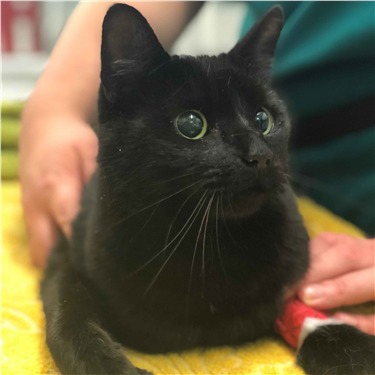 Clover, a four-year-old black cat, was shot once in the muscle of her spine and again in her front right leg that caused a fracture.
Cats Protection's Bredhurst Adoption Centre is now desperately appealing for help to cover the costs of having Clover's leg amputated and the other pellet removed.
"Currently being cared for by a dedicated team of vets at The Warren House Group, Lordswood Branch, Clover is receiving the very best treatment," said Adrian Ferne, Manager at Cats Protection's Bredhurst Adoption Centre.
"We named her Clover as she has been so lucky in surviving being shot not once, but twice.
"She is recovering well but has a long way to go before being ready to find a new home where she can carry on living the rest of her life to the full.
"Clover's operation and after-care will cost about £1,200 in total, so any donations, no matter how small, will go a huge way to reaching our target."
Any money raised beyond Clover's Just Giving appeal will be used to help other cats and kittens in the care of Cats Protection's Bredhurst Adoption Centre. The page can be found here: http://bit.ly/CloverJustGiving
Cats Protection is fronting a campaign to make it illegal to own an air gun in England and Wales without a licence.
Madison Rogers, Cats Protection's Advocacy & Government Relations Officer, said: "Many people are shocked to learn that air guns can be owned by anyone aged over 18 in England and Wales. This is in contrast with Scotland and Northern Ireland, which both have sensible, modern laws in place that require licensing of airguns. In 2017, 164 cats in the UK were reported in the press as being shot with an air gun and this figure is only the tip of the iceberg. It cannot just be coincidence that over 85% of these reported attacks on cats were in England and Wales.
"Sadly, Clover's case is not a one-off and we see many instances where cats are shot by air guns, often sustaining life-changing or fatal injuries. It cannot be right that such weapons are so easily accessible, and modern legislation on air gun ownership is now well overdue in England and Wales."
Cats Protection's petition calling on the Government to introduce the licensing of air guns in England and Wales has now gathered over 115,000 signatures. The Government launched a review into air weapons legislation in October 2017, including a consultation, which concluded on 6 February 2018, but have still not reported their next steps.
To sign the petition, visit www.cats.org.uk/airgunspetition
More information about Cats Protection's Bredhurst Adoption Centre, along with other cats who need homes, can be found here: https://www.cats.org.uk/bredhurst 
~ Ends ~
For further information or an interview, please contact Cats Protection's Media Office on 01825 741 911 or media.office@cats.org.uk