Entries are now closed for this year's National Cat Awards but we'll be asking you to vote for your 'purrfect choice' soon, so watch this space!
We're back with our annual celebration of the companionship of cats. Celebrate the friendship between your feline friend and child or let us know how your cat has improved your wellbeing.
This year we also introduce our Cat Colleagues award, a new addition sponsored by FELIWAY® Optimum.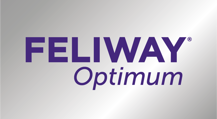 Winners will be selected by a panel of celebrity cat lovers before being announced at a star-studded ceremony at London's Savoy Hotel on 4 August 2022.
Full terms and conditions can be found here.
We'll soon announce our finalists for our four 'cat-egories' highlighting the wonder of all things feline.
Cat Colleagues (sponsored by FELIWAY® Optimum) – cats that enhance the 9-5 or make working from home a joy
Furr-ever Friends – for cats and kids that have a great relationship
Outstanding Rescue Cat – inspiring stories of cats adopted from rescue organisations
Most Caring Cat – cats that have had a positive impact on their owner's health or wellbeing