A local cat charity is appealing to find a forever home for Socks the cat, who has ended up back in their care three times in three years.
Through no fault of his own, 10-year-old Socks has been returned to Cats Protection's Bredhurst Adoption Centre, on Matts Hill Road, time and time again. The black and white cat is now in desperate need for a forever home.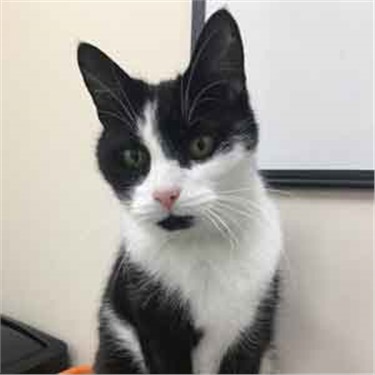 Recently diagnosed with Osteoarthritis in his pelvis and lower spine, Socks needs daily anti-inflammatories to keep any discomfort under control. Because of this, a special home is needed for socks with an understanding owner.
Stacey Faram, Deputy Manager at Cats Protection's Bredhurst Adoption Centre, said: "Socks is such a sweet cat who deserves to find a home where he can enjoy some home comforts.
"Having been adopted three times, we really hope the next time will be forever. Socks needs an understanding owner who is happy to give him daily medication to help manage his condition.
"Socks loves to be around people and is always looking for a warm place to snooze. He finds being picked up uncomfortable but is quite happy to make his own way onto a lap for some attention."
Socks needs an adult-only home where he can be the only pet needing attention. Anyone who thinks they could be the perfect companion for Socks should call Cats Protection's Bredhurst Adoption Centre on 01634 232 471 or email bredhurst@cats.org.uk
As well as Socks, the centre is currently caring for many other cats, all in need of loving homes. To see other cats needing homes, people should visit: https://www.cats.org.uk/bredhurst 
~ Ends ~
For media enquiries please contact the media office on 01825 741 911 or email media.office@cats.org.uk