A student from the University of Cambridge has been announced as this year's winner of Cats Protection's vet student Awards.
Henry Phillips, a fifth year at the university took first place in the Extra Mural Studies (EMS) awards, which give veterinary students the chance to experience feline shelter medicine with Cats Protection and then write a report about an aspect of cat welfare.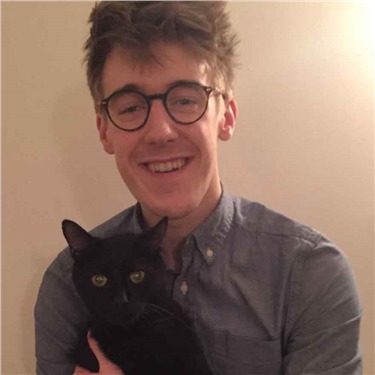 Henry's report looked at the stressors faced by cats entering rehoming and rescue organisations, the methods to manage these and how these methods could be applied when integrating cats into new homes. Henry will receive a first place prize of £500.
Henry did a work placement at Cats Protection's National Cat Adoption Centre in Sussex during 2018. He said: "It was a real privilege to spend time at the centre and learn more about the practicalities of shelter medicine and the challenges that can arise when accommodating such a large number of cats in an unfamiliar environment."
Cats Protection's Director of Veterinary Services, Maggie Roberts, said: "We were hugely impressed with the standard of this year's entries, and the obvious dedication to feline welfare expressed by the students who spent time on placement with us. Although all the reports submitted were excellent, Henry's insights really stood out. He has a great future as a vet ahead of him and we wish Henry all the best with his studies."
Cats Protection is the UK's leading feline welfare charity, helping around 200,000 cats a year through a national network of over 250 volunteer-run branches and 36 centres. More information about the charity can be found at www.cats.org.uk
- Ends -
For more information please contact Cats Protection's Media Office on 01825 741 911 or email media.office@cats.org.uk