A stray cat who had both of her ears removed due to skin cancer is looking for a new home.
The black-and-white cat, named Annie by volunteers at Cats Protection's Gwent Branch, was also anaemic, underweight, dehydrated and had an infection when she was found in the Caerphilly area.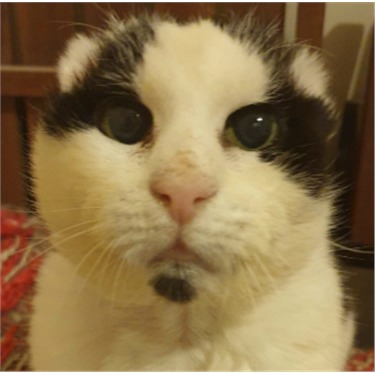 "Poor Annie was in such a bad way we weren't sure she would survive – it was really touch and go," said Glynis Davies, co-ordinator of Cats Protection's Gwent Branch.
"But she's a little fighter and has pulled through, making a miraculous recovery from the operation to remove her ears. She definitely used at least one of her nine lives!
"Thank you to everyone who has donated money towards Annie's treatment – it's made all the difference and Annie is completely transformed thanks to the love and care she's received."
In spite of everything she's been through, Annie is a very friendly cat and loves attention.
Annie, who's believed to be at least 11-years-old and came into Cats Protection's care on Sunday, February 3, is now fully recovered and is looking for a quiet home.
She could live with older children but will need to be the only pet in the household.
This Sun Awareness Week (6 to 12 May), Cats Protection is urging cat owners to protect their pets from UV rays to prevent cats like Annie needing surgery.
Glynis said: "Cats with white or pale coloured ears or noses are particularly susceptible to the sun's harmful rays – with some cats, like Annie, needing drastic surgery to remove sun-damaged skin.
"The best way to protect your cat during the summer is to keep them indoors during the hottest part of the day, traditionally between 10am and 3pm.
"If that's not possible, then provide sources of shade in your garden using cat-friendly plants and allow access to a shed or outhouse if possible. Also speak to your vet about an appropriate feline-friendly sunblock."
If you would like to adopt Annie, you can call Cats Protection's Gwent Branch on 0345 371 2747.
If you would like to support the work of Cats Protection's Gwent Branch, you can donate to its 40th birthday fundraising event - volunteers have pledged to fly down the Zip World Velocity zip wire in Bethesda in May: www.justgiving.com/fundraising/gwentbranchbirthdayfundraiser
-Ends-
For further information or an interview, please contact Cats Protection's Media Office on 01825 741 911, at media.office@cats.org.uk, or @CPMediaTeam on Twitter.
Notes to Editors:
Cats Protection's Gwent Branch is part of a national network of over 250 volunteer-run branches and 36 centres that help around 200,000 cats and kittens each year.
Cats Protection's registered charity number is 203644 (England and Wales) and SC037711 (Scotland). The charity's vision is a world where every cat is treated with kindness and an understanding of its needs.
Founded as the Cats Protection League in 1927, the charity adopted the name Cats Protection in 1998. We ask that you use the name Cats Protection when referring to the charity.
More information about the work of the Gwent Branch can be found at www.cats.org.uk/gwent-branch.