James, who is Chief Veterinary Officer at the RSPCA, will take up his role at Cats Protection on 1 November and will lead the cat charity at an exciting time in its development.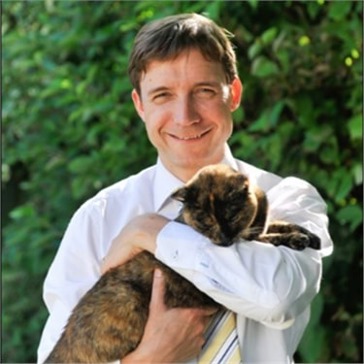 Cats Protection currently helps around 200,000 cats each year and James will lead efforts to expand its rehoming, neutering, education and advocacy work to help many more cats in the future.
As a qualified vet with degrees in Veterinary Science and Bioethics, as well as a PhD, James is experienced in ensuring the good welfare of all animals.
He is also a Royal College of Veterinary Surgeons (RCVS) Registered Specialist in Animal welfare, science, ethics and law and a Diplomate of the RCVS and the European College of Animal Welfare and Behavioural Medicine.
James has been at the RSPCA since 2012 and owns a tortoiseshell cat called Monkey (pictured).
James said: "It is a great opportunity to join such an amazing organisation as Cats Protection and also a profound honour to join with such inspiring people – volunteers and staff. To be part of that is such a privilege."
Linda Upson, Cats Protection's Chairman of Trustees said: "I am delighted that we are welcoming James to Cats Protection. His extensive knowledge of the animal welfare sector, coupled with his love of cats, will make him a great addition to our existing senior management team.
"I am looking forward to working with him in the coming years as he leads the charity forward to fulfil our vision where every cat is treated with kindness and an understanding of its needs."
Cats Protection is the UK's leading feline welfare charity and operates through a national network of over 250 volunteer-run branches and 36 adoption centres.
- Ends -
For further information or an interview, please contact Cats Protection's Media Office on 01825 741 911, at media.office@cats.org.uk, or @CPMediaTeam on Twitter.