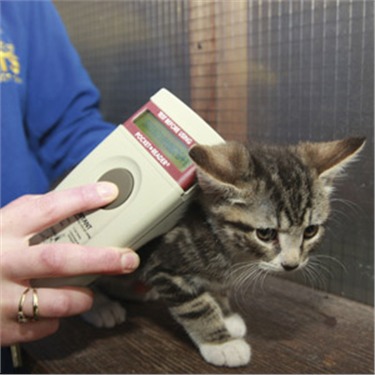 The charity is pleased that the consultation, which will consider a range of feline welfare issues, has especially welcomed views on the identification of cats and advice relating to microchipping.
Cats Protection's Head of Advocacy & Government Relations Jacqui Cuff said: "Cats are important to a huge number of people, with 26% of adults in Wales owning one, so we're pleased the Welsh Government has launched this review into its Cat Code.
"We believe microchipping is an essential part of responsible pet ownership, ensuring cats can easily be reunited with their owner if they go missing, or their owner can be informed in the sad event that their cat is killed in a road accident. Reuniting cats with their owner also removes the risk of them being taken in to rehoming centres as strays.
"All too often, cats are under-protected by the law, and microchipping is one such example. Microchipping of dogs is already compulsory in Wales and introducing mandatory microchipping of owned cats would ensure the two most popular companion animals have the same protection."
A total of 38% of owned cats in Wales are not microchipped. This means around 230,000 cats in Wales are not microchipped.
In 2017, 16% of cats taken in by Cats Protection's Wrexham Adoption Centre were strays. Only 24% of all cats coming into the centre were microchipped.
Jacqui said: "Some of these cats which came into our care may well have been owned cats, but due to the absence of a microchip it was impossible to know. This means it's possible that we may needlessly rehome cats who may well have an owner."
Microchipping is a safe and simple procedure in which a small chip is implanted under the skin. A unique code from the microchip is then saved on a national database, along with the owner's details. This permanent method of identification cannot become lost and removes the risk of collar-related injuries.
The code also recommends kittens are neutered from four months of age to prevent unwanted litters, which the charity strongly supports.
Cats Protection is the UK's leading feline welfare charity. In 2017 in Wales, Cats Protection rehomed 2,716 cats, neutered 2,324 cats and delivered 114 education talks reaching an audience of 3,148. The charity's Welsh network includes six volunteer-run branches, three centres and 10 shops.
To find out more about Cats Protection's campaigning work, please visit www.cats.org.uk/what-we-do/speaking-up-for-cats
- Ends -
For more information or a photo, please contact Michaela at Adastra Media by email on michaela@adastramedia.co.uk or call 07740 305918.