The UK's largest cat charity has welcomed a new bill to increase maximum prison sentences in cases of animal cruelty.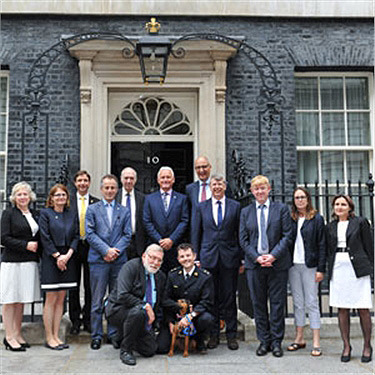 The Animal Welfare (Sentencing) Bill, introduced to Parliament on 26 June, will mean animal abusers could face up to five years in prison.

Cats Protection said the announcement by Environment Secretary Michael Gove was good news for feline welfare in the UK.

James Yeates, Cats Protection's Chief Executive said: "Every week we hear of stories where cats, and other animals, have been subjected to horrific cruelty. This directly causes severe suffering, and often lifelong physical injuries or psychological problems. And sadly, we hear of many cases where cats have died after suffering appalling acts of cruelty.

"Our society takes animal welfare very seriously and will not tolerate the abuse of defenceless animals. When this sentencing bill is progressed and enacted, it will bring our public laws a little closer to our social ethics.

"We very much welcome this announcement which is an important step in ensuring the UK is one of the world leaders on animal welfare issues."

Poppy is one cat left with life-changing injuries following a random air gun shooting near her home in Cramlington, Northumberland. The eight-year-old needed to have an eye removed and was left with a shattered jaw following the attack, in April this year.

Poppy's owner Sarah Muir, a volunteer for Cats Protection, said: "The vet initially said she'd been hit by a car as her injuries were so severe. When they later found the pellet and the entry wound, I felt sick. She's a very friendly, much-loved cat and the thought that someone could take aim at her to inflict such awful injuries is really upsetting.

"She's now lost one eye, and the other has been damaged to a point that she is virtually blind. She'll now have to live indoors for the rest of her life, and has been left with a permanent disability. It's heart-breaking that a happy, healthy cat can be so badly affected by one act of horrific cruelty."

Earlier this week, Cats Protection joined 10 other animal welfare organisations to meet with the Prime Minister's environment secretary Lord Randall to push for tougher sentences in animal cruelty cases.

Joining the 11 animal welfare organisations at Downing Street was two-year-old Lakeland Terrier Jet and RSPCA Inspector Graham Hammond. Jet was found dumped in scrubland in Southampton, Hampshire, last July with horrendous injuries.

He'd been shot in the head four times with an air rifle and spent five days collapsed and alone before being found and rushed to a vet. His wounds were covered in thousands of fly eggs (known as fly-strike) and he needed £5,000 worth of treatment to nurse him back to health.

Miraculously, Jet survived but his hearing and vision were both affected. The RSPCA launched an investigation and traced the man responsible for the brutal injuries. Earlier this month, the 37-year-old was found guilty at trial of causing unnecessary suffering to Jet (an offence under the Animal Welfare Act 2006) and sentenced to 200 hours of community service, ordered to pay more than £1,600 in costs and disqualified from keeping animals for 10 years.
ENDS
For more information or a photo, please contact Cats Protection's Media Office by emailing media.office@cats.org.uk or phone 01825 741 911.