Cats Protection has welcomed a Government announcement issuing a call for evidence on the compulsory microchipping of cats.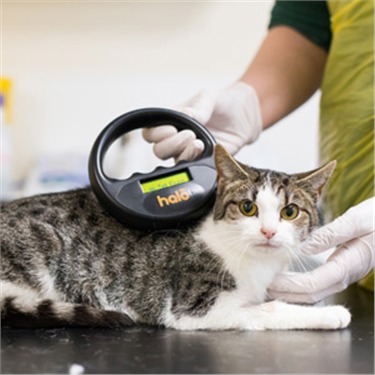 The UK's biggest cat charity says microchipping should become a legal requirement for cats, as it already is for dogs.
The announcement, by David Rutley MP, Parliamentary Under Secretary of State at the Department for the Environment, Food and Rural Affairs, to launch a call for evidence as soon as possible was in response to a parliamentary debate on June 17 on the scanning and microchipping of cats.
Cats Protection's Head of Advocacy & Government Relations Jacqui Cuff said: "Microchipping is an essential part of responsible cat ownership and making it compulsory is a priority campaign for Cats Protection. Microchipping is already compulsory for dogs and it's only right that this should also apply to cats, to ensure they have the same level of protection as dogs.
"Introducing compulsory microchipping of owned cats would encourage more cat owners to microchip their cats, meaning that lost cats can be identified and returned home rather than handed into rehoming charities as strays. In 2018, 62% of the cats taken in by Cats Protection's Adoption Centres were not microchipped.
"We're delighted the Government has shown a commitment towards improving feline welfare and promoting responsible cat ownership in the UK by launching this call for evidence. We look forward to working closely with Government to take this issue forward. The debate in parliament with its real-life stories from MPs across the political spectrum showed the strength of public support for microchipping and scanning."
The charity recommends microchipping as it is a safe, permanent and cost-effective method of identification which ensures cats can be reunited with their owner should they go missing. Under current regulations, dogs must be microchipped but this law does not extend to cats, where it's down to owners to decide.
Cats Protection says without microchipping, it can be impossible to reunite lost cats with their owners, meaning they may be rehomed to other people.
Lost cats which have recently been reunited with their owners thanks to microchips include:
Horace: Eleven-year-old Horace is thought to have hitched a ride under a car bonnet before getting lost for three weeks in April 2019. He was eventually found wandering in the grounds of a school 15 miles away. Thanks to the details on his microchip, he was quickly returned home to his relieved owner in Southsea, Hampshire.
Smudge: Eighteen-month-old Smudge disappeared from his home in Little Hulton, Greater Manchester, in August last year. He was found six months later in a garden 15 miles away in Wigan by a concerned resident who took him to a vet.
Bazz: Ten-year-old Bazz had been missing for two years when he was found wandering in Midsomer Norton, Somerset, in April 2019. A quick scan revealed his microchip details and he was swiftly returned home.
Lula: Lula had been missing for two-and-a-half years when she was found scavenging for scraps in bins in December 2018, in Tunbridge Wells, Kent.
The Government also heard from MPs about the vital role microchipping plays in enabling owners to be notified if their cat has been injured or killed in a road accident. Cats Protection encourages all local councils to scan cats they collect that have been killed on the roads. The charity welcomes the commitment made in the debate for discussions with the Under-Secretary of State for Housing, Communities and Local Government to explore how best practice on scanning can be encouraged across local councils.
Cats Protection is the UK's largest cat charity, helping around 200,000 cats every year through a network of over 250 volunteer-run branches and 36 centres.
To find out more about the charity, please visit www.cats.org.uk
Ends
For photos, interviews or more information, please contact Michaela by emailing michaela@adastramedia.co.uk or phone 07740 305918.