Gillingham and Rainham MP Rehman Chishti paid a visit to Cats Protection's Bredhurst Adoption Centre to see first-hand how the charity helps cats both in the local area and across the UK.
The centre, in Hartlip, rehomes around 600 unwanted and abandoned cats every year.
Mr Chishti met staff and volunteers at the centre before enjoying a behind-the-scenes tour where he met some of the cats currently looking for new homes, including Freddy and Custard, two of the strays which have come into the centre without a microchip. Because staff have been unable to trace owners, both cats are now awaiting rehoming.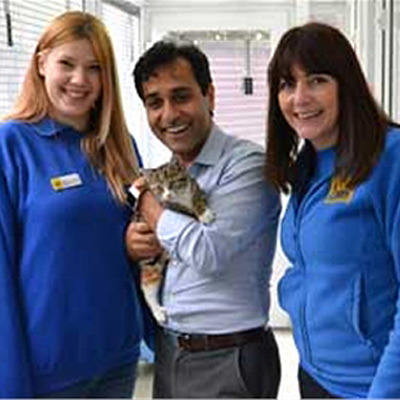 Mr Chishti discussed the charity's campaign for compulsory microchipping of cats, and how more local authorities can be encouraged to routinely scan cats which have been involved in road accidents for microchip details.
Microchipping is a safe, permanent and cost-effective method of identification which ensures cats can be reunited with their owner should they go missing. It means lost cats are not mistaken as strays and taken in by rehoming charities and ensures owners can be notified if their cat has been injured or killed in a road accident.
Last year, 71% of cats coming into Cats Protection's Bredhurst Adoption Centre were not microchipped.
Rehman Chishti MP said: "I was delighted to visit Cats Protection's Adoption Centre in Bredhurst and see its fantastic work. I spoke to staff and volunteers who help cats that require care and support, from arriving at the centre to finding a loving new home.
"The visit also provided a great opportunity to hear about the importance of ensuring people get their cats microchipped, which is vital in getting cats reunited with their loved ones. This ties in with my Cat Welfare Bill in Parliament which is looking to ensure that all owned cats are microchipped just as the Government requires of dogs."
Cats Protection's Head of Advocacy & Government Relations Jacqui Cuff said: "Mr Chishti has been very supportive of our calls for compulsory microchipping of cats, so it was great to welcome him to the centre to find out more about our work."
Cats Protection is the UK's leading feline welfare charity, helping around 200,000 cats every year through a network of more than 250 volunteer-run branches and 36 centres.
Ends
For a photo or more information, please contact Michaela at Adastra Media by emailing michaela@adastramedia.co.uk or phone 07740 305918.