Cats Protection won the People's Choice Award at the Charity Film Awards 2019 on Friday night (26 April) for the film that received the highest number of public votes across all six categories
A finalist in the £50,000,000+ category, the charity went on to win the people's choice which was selected from the 50 films and videos and was presented by actor Sally Phillips.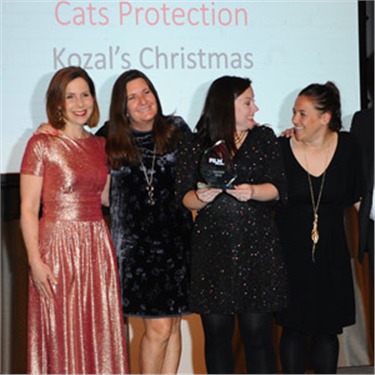 Based on a true story, the animation Kozal's Christmas aimed to raise awareness of the charity's rehoming work.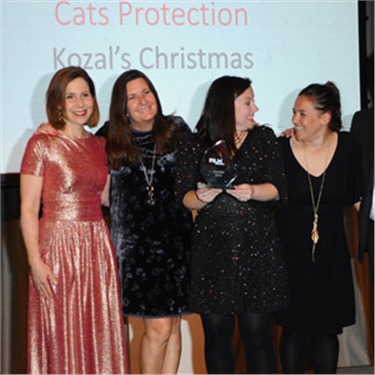 It tells the story of 16-year-old Kozal the cat who spent seven months being overlooked before finding a new home.
Digital Engagement Manager Gemma Croker said: "We were so delighted to win this as it shows how Kozal's story resonated with the public. We have so many older cats in our care looking for loving homes so we really hope it encourages more people to consider adopting one."
Nearly 400 charities enter the Charity Film Awards each year with 50,000 votes from members of the public.
Cats Protection has thousands of cats in care in need of new homes. To find out more, please visit our Find-a-cat tool.
~ Ends ~
For further information or an interview, please contact Cats Protection's Media Office on 01825 741 911, at media.office@cats.org.uk, or @CPMediaTeam on Twitter.
Notes to Editors:
Cats Protection is the UK's leading feline welfare charity, helping around 200,000 cats each year through its national network of over 250 volunteer-run branches and 36 centres.
Cats Protection's vision is a world where every cat is treated with kindness and an understanding of its needs.
Cats Protection's registered charity number is 203644 (England and Wales) and SC037711 (Scotland). Founded as the Cats Protection League in 1927, the charity adopted the name Cats Protection in 1998. We ask that you use the name Cats Protection when referring to the charity in all published material.