Masterchef winner Tim Anderson and Bake Off star Kim-Joy are encouraging people to hold tea parties throughout April to support Cats Protection.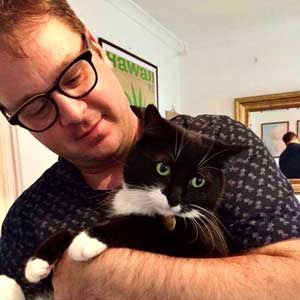 The cat-loving duo have provided biscuit recipes for the charity's Pawsome Afternoon Tea, which raises money to help needy cats across the UK.

Tim, who owns a cat called Baloo, has created an oatmeal biscuit recipe while Kim-Joy's ginger biscuits feature an 'adopt don't shop' message in honour of her two rescue cats, Inki and Mochi.

Tim said: "My cat provides endless support and humour, whether it's sitting on my lap for a cuddle or jumping onto my open recipe books to distract me! It's sad to think that there so many lovely cats out there who don't yet have a home so I hope cat lovers and baking enthusiasts really get behind Cats Protection's campaign."
Kim-Joy commented: "I've always been moderately chilled, but my two kittens make me even more chilled out! Cats are good for our mental health as they are lovely, affectionate and cuddly. There are many adorable cats out there looking for forever homes so please consider adopting not shopping if you want to get a cat."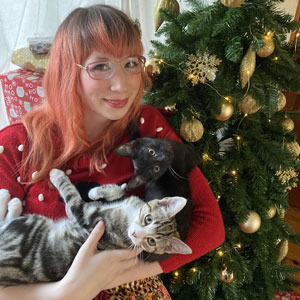 This is the fourth year Cats Protection has run its Pawsome Afternoon Tea and organiser Zoe Thompson, from the charity, said: "This is a wonderful opportunity to spend quality time with loved ones enjoying some bakes, as well as raising funds to help the many unwanted cats in our care. We hope cat lovers will sign up and feel inspired to re-create Kim-Joy and Tim's recipes!"

To register for a free Pawsome Afternoon Tea pack, and to view Tim and Kim-Joy's recipes please visit www.cats.org.uk/support-us/events/pawsome-tea/pawsome-tea-resources while video tutorials featuring more feline-themed cakes and biscuits can be found at www.youtube.com/playlist?list=PLBmJH1dUsndhLYwQFczyd23HvNAMAlP0S 

Cats Protection is the UK's leading feline welfare charity, helping around 200,000 cats each year through a national network of around 250 volunteer-run branches and 36 centres.

~Ends~

For further information please contact Cats Protection's Media Office on 01825 741 911, at media.office@cats.org.uk, or @CPMediaTeam on Twitter.