A portly cat who tipped the scales at nearly 11kg when he came in to the care of Cats Protection has started to beat the bulge thanks to his new strict diet regime.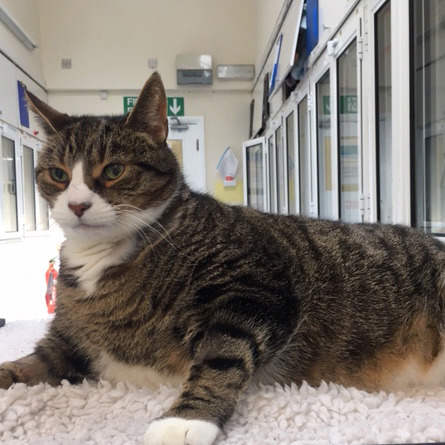 Jinky was taken in by Cats Protection's Tyneside Adoption Centre following the sad death of his owner.
It soon became clear the 13-year-old had been living the life of luxury as an indoor cat, most likely with an aversion to exercise. Jinky weighed in at 10.98kg when he was first admitted, more than double the recommended weight for a normal cat.
Finding himself in a new home was understandably a shock for Jinky, and he went off his food for a while, leading him to begin losing weight straight away. He eventually settled in and soon got used to his prescribed diet.
Charlaine Tighe, deputy manager at the adoption centre, said: "The funny thing is Jinky is actually very fussy with food and we found in order to get him to eat he likes for one of us to be his dining companion.
"For a big lad who barely tolerated us he now can't get enough interaction, and it's not for treats. We think his dinners at home were probably human foods, but here he is given special obesity food, with a weekly treat of chicken."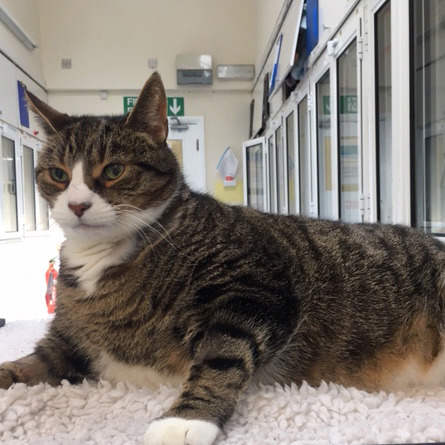 Thanks to his carefully monitored diet his weight has already dropped to 9.5kg. Staff at the centre are hoping to eventually get him down to a much healthier 8kg while he is still in care, while any potential owner will have to commit to sticking with the weight loss diet to reduce it further, ideally down to a more slender 6kg.
Jinky has been thoroughly checked over by a vet, and while he doesn't appear to have any significant health problems, obesity can put cats at higher risk of diabetes, arthritis and heart problems.
Here are five tips for keeping your feline fit and healthy:
· Weigh out cat food on a daily basis, being careful not to overfill bowls. If giving specific cat treats, reduce the overall amount of food given at meal times.
· Encourage your cat to exercise with games such as fishing-rod toys or placing their daily ration of food inside a fun feeding ball to encourage activity.
· Avoid giving your cat treats intended for humans, such as milk, cheese or chocolate. Many cats cannot digest cow's milk products and chocolate contains a compound that can be toxic to cats.
· Never starve overweight cats or put them on a crash diet. A gradual, steady decrease in bodyweight is ideal and it may take up to a year for a severely overweight cat to reach their ideal body condition.
· If your cat is overweight, seek advice from your vet before embarking on any change of diet.
During the developing coronavirus crisis, Cats Protection's centres and branches are closed to the public. Like all cats in the charity's care, Jinky will continue to be cared for until rehoming activities are resumed. When he is ready for rehoming he will require an experience owner committed to keeping him healthy.
Further advice on helping cats to eat healthily can be found at www.cats.org.uk/help-and-advice
Jinky came in to the care of Cats Protection through its Cat Guardians scheme, a service which offers peace of mind to owners concerned about what will happen to their cat if they pass away. For more information on the scheme visit https://www.cats.org.uk/what-we-do/catguardians.
- Ends -
For further information or an interview, please call Cats Protection's Media Office on 01825 741 911 or email media.office@cats.org.uk