A 14-week-old kitten who was found abandoned in a box has had to have complex surgery costing over £1,800.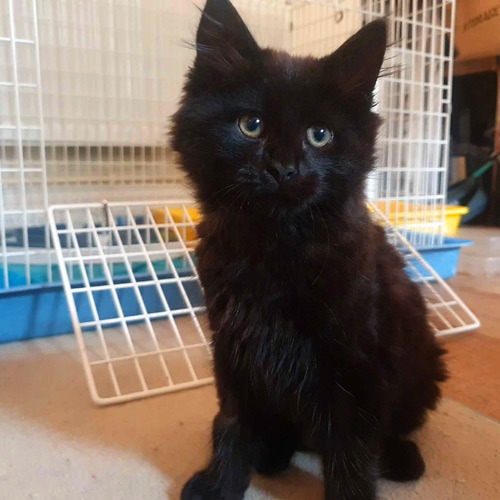 Spencer was handed in to Cats Protection's Haslemere Adoption Centre on Monday 15 July by members of the public who found the box dumped on a road nearby.
Spencer's mother Scarlet and sister Sugar were also in the box.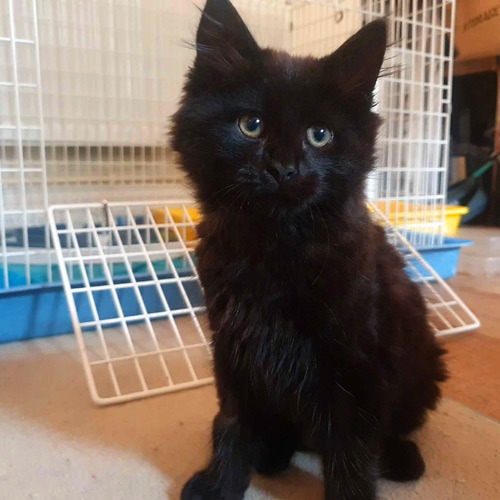 According to Cats Protection, all three cats were very hot and lucky to have been discovered in time.
"It's shocking enough that the cats were dumped, but the fact poor Spencer was in such a state is just heartbreaking. The poor cats have definitely used at least one of their nine lives." said Hannah Ashwell, Cats Protection's Regional Fundraising Manager.
Scarlet and Sugar have been given the all clear but Spencer was in need of a little more investigation. He had a noticeable limp and an open, infected wound in his groin area. He was also showing signs of discomfort coming from his right hind leg.
After a referral to a specialist vets, X-rays showed that Spencer had a fracture to the top of his right femur.
Because of his injuries, Spencer needed some complex surgery on his hip to stabilise the joint.
"He's been recovering from his surgery at a fosterer's house along with his sister Sugar," said Hannah. "As soon as Spencer is well enough, they will be looking for their forever homes."
Spencer has a long road to recovery and will be receiving veterinary care over the coming weeks with regular check-ups.
However, Hannah and the Haslemere team believe Spencer will be back to full strength in no time at all.
Hannah added: "The total cost of Spencer's treatment, medication and after care, will cost over £1,800. Anything people can donate to help cover this cost will be hugely appreciated and will go a long way to helping."
While Spencer and Sugar will be in care a little longer, Scarlet is ready to find a new home of her own where she can enjoy some home comforts.
Anyone wishing to find out more about adopting Scarlet should call the centre on 01428 604 297, email haslemere@cats.org.uk or visit www.cats.org.uk/haslemere for more information.
Anyone wishing to donate to Spencer's care should visit: www.justgiving.com/fundraising/haslemere-cats-spencer
Any funds raised above the centre's target will be used to help other cats and kittens currently in the care of the charity's Haslemere Adoption Centre.
More information about Cats Protection's Haslemere Adoption Centre, along with other cats who need homes, can be found here: www.cats.org.uk/haslemere
~ Ends ~
For further information or an interview, please contact Cats Protection's Media Office on 01825 741 911 or media.office@cats.org.uk