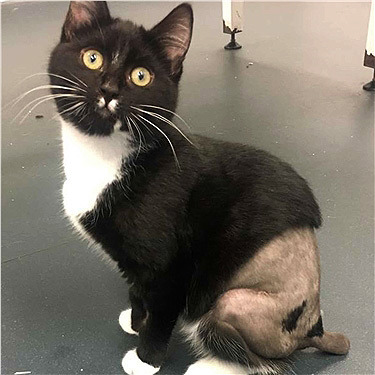 Volunteers from Cats Protection's Blackheath & Deptford Branch feared the worst for Freya after she arrived in their care with a fractured tail last month.
After being rushed to John Hankinson Veterinary Clinic, Freya was diagnosed with serious nerve damage to her tail area from a suspected car accident, which left her unable to empty her bladder or bowels.
The prognosis for this type of condition can be fatal but the dedicated team of veterinary staff never gave up on her.
A few days later, little Freya started showing signs of improvement and was able to use the litter tray on her own. Vets named her 'miracle kitten' for defying all odds.
However, she still had no sensation below her injury and the decision was made to amputate her tail.
"Freya really is a miracle kitten. At one point, we weren't sure if she would survive but luckily, just days later, she started getting better," said Kathy Vanner, Welfare Team Leader at Cats Protection's Blackheath & Deptford Branch.
"It's thanks to the dedication and constant care from the team at John Hankinson Veterinary Clinic, that Freya survived."
Volunteers from the branch launched a Just Giving appeal to raise the vital funds needed for Freya's treatment and were overwhelmed with the response.
Kathy added: "We are so grateful to all the kind donations towards Freya's care. We have raised well over our target and I'm sure if Freya could talk, she'd say a huge 'thank you', too."
Now five months old and fully recovered from her ordeal, Freya is enjoying some home comforts with her new family. Ali and Nick adopted Freya after meeting her while collecting their previous cat's ashes, Charlie, from the vets.
Ali said: "We never thought we'd meet our next feline companion so soon after losing Charlie.
"It was love at first sight and something was just telling us that Freya was meant to be one of our family."
Like Charlie, Freya is a black-and-white 'tuxedo cat' and Ali and Nick believe they were led to Freya by Charlie who would've wanted them to adopt another feline in need.
Ali added: "Freya's cheeky character and funny quirks have made Charlie's passing that little bit more easier. She is a truly lovely cat who brings so much laughter and enjoyment to our home."
Any money raised beyond Freya's Just Giving appeal will be used to help other cats and kittens in the charity's care. The page can be found here: http://bit.ly/JustGivingAppealForFreya
More information about Cats Protection's Blackheath & Deptford Branch, along with other cats like Freya who need homes, can be found here: https://www.cats.org.uk/greenwich
~ Ends ~
For further information or an interview, please contact Cats Protection's Media Office on 01825 741 911, at media.office@cats.org.uk, or@CPMediaTeam on Twitter.