If the internet has taught us anything, it's how much we love cat videos - and the Alternative Cat Awards 2020 is the perfect chance for your moggy to take centre stage!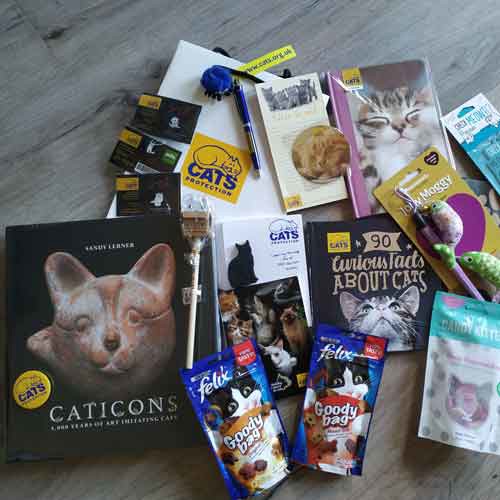 During lockdown, we've been #HereForTheCats and they've definitely been here for us too, whether it's providing companionship, interrupting meetings, disrupting home schooling or getting involved in workouts.  To celebrate just how pawsome our feline friends have been, Cats Protection is launching the online Alternative Cat Awards on Thursday 6 August 2020.
If your pawsome pal has made an outstanding contribution to your life this year, just upload a video of them to Instagram or Twitter using #AlternativeCatAwards into one of the following categories which will be judged by our celebrity panel:
#PurinaPurrfectTeamwork - Celebrating the bond between cats and their owners working or studying during the lockdown period – judged by beauty expert and TV presenter Gina Akers
#MischievousMoggy – Cats with interesting and playful behaviours that may have performed challenges or been a source of entertainment during lockdown – judged by ex-England goalkeeper David Seaman and his wife, Dancing on Ice Star Frankie Seaman
#SeniorKitizen - Mature cats aged 11 years and above – judged by TV presenter Anthea Turner
#PurrfectlyImperfect – Celebrating cats living happy, healthy lives with a disability, health issue or superficial aesthetic deformity – judged by comedian and writer Jake Lambert
#BestNewcomer – Cats adopted from an animal rescue organisation in 2020 – judged by dance choreographer and ex-Strictly judge Arlene Phillips
Category winners will be announced on Cats Protection's social media channels throughout the day on Thursday 17 September 2020.  At the end of the day, the public will be asked to vote in a People's Choice for their favourite category winner, to be announced on Wednesday 23 September by cat-loving comedian Bob Mortimer.
The awards are sponsored by Cats Protection's long-term corporate partner PURINA® and the five category winners will receive a bumper pack of Cats Protection goodies worth £100, with the People's Choice also winning a pair of tickets to next year's National Cat Awards at The Savoy in London.
For full terms and conditions, visit www.cats.org.uk/aca
 -ends-
Notes to editors:
1. The National Cat Awards 2020 were postponed due to COVID-19. They will be held on Thursday 5 August 2021.
2. Cats Protection is a national network of around 230 volunteer-run branches and 37 centres that help around 200,000 cats and kittens each year.
3. Cats Protection's registered charity number is 203644 (England and Wales) and SC037711 (Scotland). The charity's vision is a world where every cat is treated with kindness and an understanding of its needs.
4. Founded as the Cats Protection League in 1927, the charity adopted the name Cats Protection in 1998. We ask that you use the name Cats Protection when referring to the charity.
5. PURINA® is committed to helping pets live longer, happier and healthier lives through proper nutrition and care. For over 125 years, PURINA® has been one of the pioneers in providing safe, palatable and nutritious products made to the highest standards of quality and safety. The PURINA® brand portfolio includes many of the UK's best known and best-loved pet foods including Felix®, Bakers®, PURINA ONE ®, Bonio®, Gourmet®, Go-Cat®, Pro Plan®, Beta®, PURINA Pro Plan® Veterinary Diets® and Winalot®. For more information visit www.purina.co.uk or follow on Twitter @PurinaUK