International 'Kiss a Ginger Day' (Saturday 12 January) encourages people to find their favourite redhead and give them a cheeky peck on the cheek
Cats Protection is taking the opportunity to highlight Sebastion, a gorgeous ginger-and-white cat who is waiting patiently for a home at the charity's Framlingham &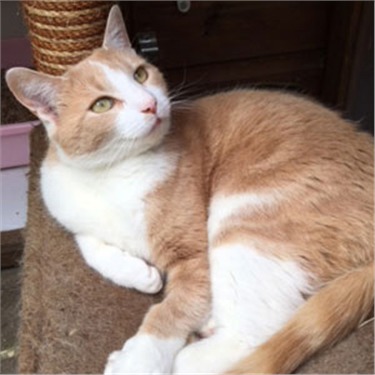 Saxmundham Branch. While Cats Protection does not advocate giving cats a big kiss, Sebastion is looking for plenty of love and attention.
Five-year-old Sebastion has had a rough start to life after being found as a stray in a very bad condition. After much love and care, he is now ready to find a new and loving home.
Due to his previous lifestyle, it is thought that a rural, adult-only home where he can be the only pet would be ideal.
Daniel Cummings, Behaviour Officer for Cats Protection said: "It's better to wait for your cat to approach you rather than restraining your cat to lavish them with hugs and kisses as many cats will find this uncomfortable and unpleasant – there are many other ways to show love to your cat such as stroking, playing and slow blinking at them.
To give Sebastion a home, contact Cats Protection's Framlingham & Saxmundham Branch on 01728 723 499 or by emailing homingandwelfare@framandsax.cats.org.uk
Anyone wishing to find a cat to adopt in their area, of any colour, should visit: https://www.cats.org.uk/adopt-a-cat
~ Ends ~
For further information or an interview, please contact Cats Protection's Media Office on 01825 741 911, at media.office@cats.org.uk, or@CPMediaTeam on Twitter.