The UK's leading cat charity is urging people not to dump unwanted cats after four young felines were abandoned in the Lowestoft area in the run up to Christmas.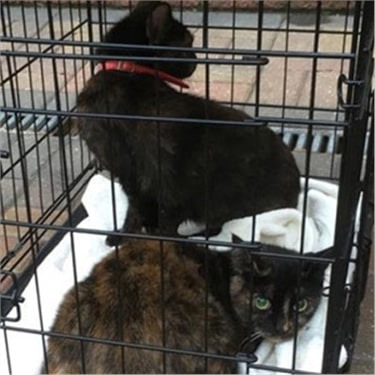 Cats Protection is currently caring for Holly and Ivy, who were discovered in a small dog cage outside the coordinator's home on Christmas Eve, as well as Blitzen and Rudi, who were dumped outside a local vet surgery just 12 days prior.

Thought to be between six and nine months of age, torties Holly and Ivy were left with only a plastic bag over the cage roof to protect them.

They were found by Cats Protection's Anglia Coastal Branch's co-ordinator, Christine Cutts, when she opened her front door on Christmas Eve morning, and are now being fostered by volunteer foster Mel Seager.

Christine said: "Despite being terrified when they were first discovered, Holly and Ivy are really lovely, friendly girls. They've clearly been well cared for and are used to being around people. Happily we've already had lots of interest in adopting them so they'll be going to their new home soon.

"We're really glad we found them quickly but we would urge anyone who needs to give up a cat to contact us in the first instance as we'll always do our best to help and it avoids cats being left out in the cold, particularly at this time of year."

Blitzen and Rudi, who are aged around 14-20 weeks and were dumped outside the Three Riversvet surgery in Loddon on 12 December, are also doing well. They are described as 'mad but very loving' and will be going up for adoption in the new year.

Anyone who needs help rehoming a cat, or anyone interested in adopting a cat, can find details of their nearest Cats Protection branch or centre at www.cats.org.uk/find-a-cat
~ ends ~
For further information or an interview, please contact Cats Protection's Media Office on 01825 741 911, at media.office@cats.org.uk, or @CPMediaTeam on Twitter.
Notes to Editors:
Cats Protection is the UK's leading feline welfare charity, helping around 200,000 cats each year through its national network of over 250 volunteer-run branches and 36 centres.
Cats Protection's vision is a world where every cat is treated with kindness and an understanding of its needs.
Cats Protection's registered charity number is 203644 (England and Wales) and SC037711 (Scotland). Founded as the Cats Protection League in 1927, the charity adopted the name Cats Protection in 1998. We ask that you use the name Cats Protection when referring to the charity in all published material.
More information about the work of Cats Protection can be found at www.cats.org.uk