A cat from Coventry who helped a teenager with Asperger syndrome cope with the death of his father has been named National Cat of the Year 2019.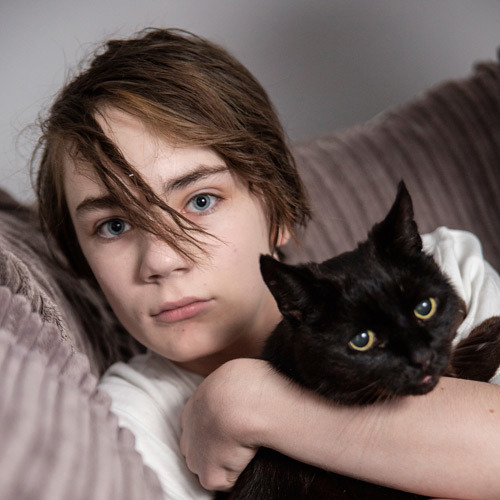 Eight-year-old Jeffree beat hundreds of other entries to be named overall winner in the nation's biggest celebration of pet cats at London's Savoy today (8 August).
Jeffree was recognised in honour of the life-changing effect he had on Finn Hackeson, 14, who had become depressed and withdrawn following the sudden death of his dad in June 2018.
Because Finn has Asperger syndrome he can find it hard to communicate, yet mum Gayle Atkins said he has been able to cope much better thanks to Jeffree.
Collecting Jeffree's award, Gayle said: "I'm thrilled Jeffree has won, he's most definitely an absolute star in our household. I hope that through his story more people will see what an incredible support cats can be for both children and adults with autism. Cats don't judge, they don't rush you to talk about your feelings and they accept people the way they are – and that really is priceless.
"Children with Asperger's can find death particularly difficult to process and Finn really struggled. Within a few months, he became locked in a cycle of despair and depression.
"I was prepared to do anything to help him and, because we're animal lovers, we adopted Jeffree. I don't think I really had any other options available then, he was my big hope of pulling Finn back from the brink – and he totally did it.
"From the moment they saw each other, they had a connection. They were instantly inseparable and the fog lifted around Finn. He could smile again, have fun and his outlook completely changed.
"To think how far Finn has come is incredible and I don't know of any other therapy that could have had this effect. It's all down to this amazing little black cat."
Jeffree was selected as National Cat of the Year by a panel of celebrity judges including TV and soap critic Tina Baker, actor and comedian Liz Carr, Film Editor of Radio Times Andrew Collins, actor Paul Copley, TV psychologist Jo Hemmings and musician Rick Wakeman.
He was chosen as overall winner after first winning the Furr-ever Friends category, celebrating the bond between children and cats.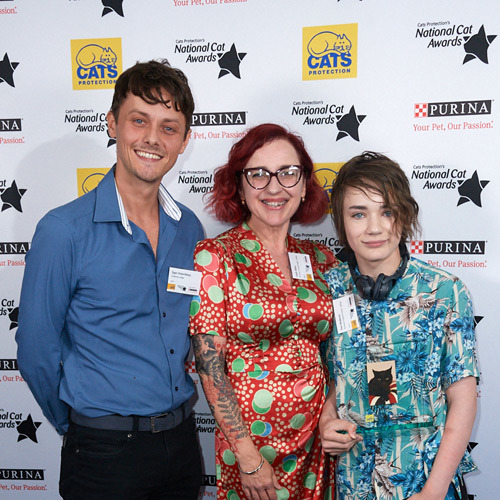 Category judge and actor Tyger Drew-Honey chose Jeffree as his winner and said:
"Finn has had an incredibly tough time and I can really see the difference Jeffree is making to him. It's such a special friendship and I wish them all the best."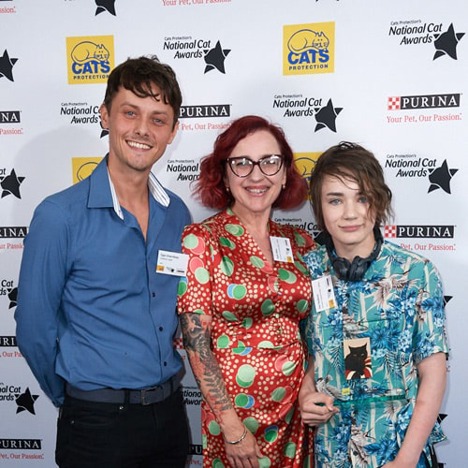 Cats Protection's National Cat Awards, organised by the UK's largest cat charity and sponsored by PURINA®, is an annual celebration of the real-life stories of heroism, loyalty and companionship in the feline world.
Cats Protection's awards organiser Kate Bunting said: "Some children face particularly challenging struggles in their lives and often the family pet can be a huge source of comfort and friendship. Finn and Jeffree's story shows how important this bond can be and how it can help during times of tragedy. I'm so pleased Finn and Jeffree have found each other and I hope many other families will be inspired by their story."
(Photo credit - Alan-West-Photography)
Other category winners are:
Jack – Winner of Hero Cat, for raising the alarm when his owner Marcia McSwegan, who suffers from global autonomic dysfunction, was about to suffer seizures. Jack has now sadly passed away.
Sparky – Winner of Most Caring Cat for being a constant support to his owner Kirsty Ayre after she lost both her parents and a laser pen was pointed into her face during a random attack, leaving her blind in one eye
Nala – Winner of Outstanding Rescue Cat for being a friend and companion to terminally ill teenager, Charlotte Eades, who later died from brain cancer and continuing to support Charlotte's bereaved family
Jethro – Winner of PURINA® Better Together for helping his owner Abigail Knight to overcome serious health issues to lead an independent life and in turn being helped by Abigail when he suffered from feline diabetes and a brain abscess.
Videos of all finalists can be found here: www.youtube.com/results?search_query=national+cat+awards+2019

Ends

For further information, photographs or an interview, please contact Cats Protection's Media Office by emailing media.office@cats.org.uk or phone 01825 741 911