A local cat charity is commending teachers from Squirrels Heath Infant School for showing their students how to care for a sick cat who turned up in their playground.
Kathy Edwards and Debbie Priestley, volunteers from Cats Protection's Hornchurch & District Branch, received a call on Thursday 10 January after a cat sought sanctuary in the school's playhouse in Salisbury Road.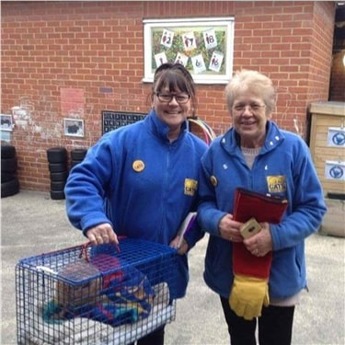 On arrival, they were pleased to see a tarpaulin was covering the playhouse, allowing the cat to rest until help was on hand.
Squirrel, named in recognition of the school, was so weak and in such poor health that he put up no fight while being put into a cat carrier.
After being rushed to the local vets, it was found that Squirrel was severely underweight, making him look a lot older than his estimated age of five years, and the examination showed he had two broken teeth and a slight heart murmur.
After a short stay at the vets, Squirrel is now being fostered by Kathy so he can make a full recovery at her house before finding his forever home.
Kathy said: "We cannot thank the children and teachers at Squirrels Heath Infant School enough for acting so quickly and for doing all the right things. Not only did it help Squirrel but it was also great for the children to see how to help a sick and injured animal.
"Some beautiful get-well cards were made for Squirrel, wishing him good luck and I'm sure if he could talk, he would want to say a big 'thank you' to both students and teachers."
More information on what to do, should someone find an injured, stray or feral cat, can be found at here
Cats Protection's Hornchurch & District Branch is currently caring for a number of cats, all needing loving homes. Anyone who is interested in adopting Squirrel, when he is ready for homing, or another cat in care, can call the branch on 01708 755211, email hornchurchcats@yahoo.co.uk or visit: https://www.cats.org.uk/hornchurch
~ ends ~
For further information or an interview, please contact Cats Protection's Media Office on 01825 741 911, at media.office@cats.org.uk, or @CPMediaTeam on Twitter.