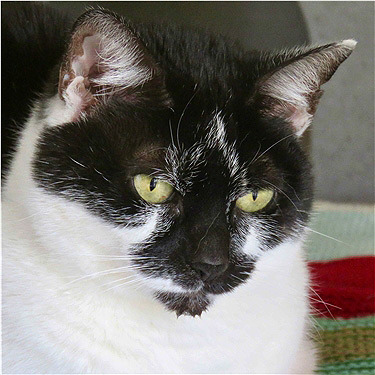 Volunteers from Cats Protection's Brighton & District Branch are desperate to find Billie Jean a home where she can spend hours playing and enjoying some home comforts.
Eight-year-old Billie Jean has been described as being a true 'beauty queen' who is extremely photogenic.
"She is a really playful and chatty cat who so desperately needs a new home. Billie Jean is such a pretty cat with striking markings and is a definite beauty queen in our eyes," said Teresa Dee, Coordinator at Cats Protection's Brighton & District Branch.
"Billie Jean is a very confident cat and loves nothing more than being around people. She's definitely a cat with bundles of character and has a sassy personality. She loves attention and will let you know when she's had enough! She was involved in an accident a few years ago and her tail had to be amputated but this hasn't affected her at all."
The branch is looking for a home for Billie Jean where she can enjoy some outdoor space to explore once settled. She also needs to be the only pet needing love and attention, as she doesn't get on with other cats.
Anyone who thinks they could be the perfect companion for Billie Jean should contact Cats Protection's Brighton & District Branch on 01273 610 306 or by emailing adoptions@brighton.cats.org.uk
Alongside Billie Jean, Cats Protection has other cats in care, all looking for new homes. Anybody wishing to adopt a cat should call 03000 12 12 12 to find their nearest branch or adoption centre alternatively they may visit our adoption pages
~ Ends ~
For media enquiries please contact media.office@cats.org.uk or call 01825 741 911