Lucky black cat Wilfey is one of the first cats to be rehomed under Cats Protection's new Hands-Free Homing scheme.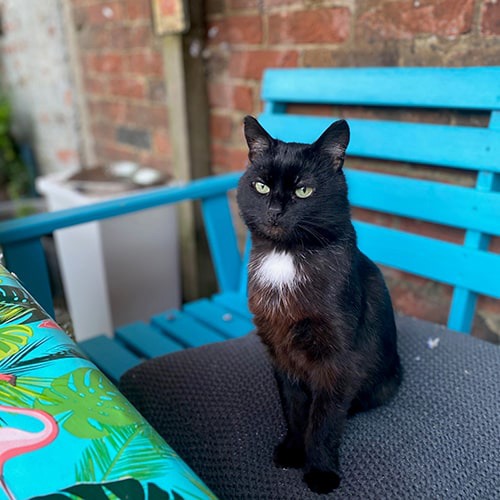 Cats Protection is piloting the contactless scheme as part of its carefully controlled response to lockdown restrictions and the impact on the national charity's ability to safely home cats.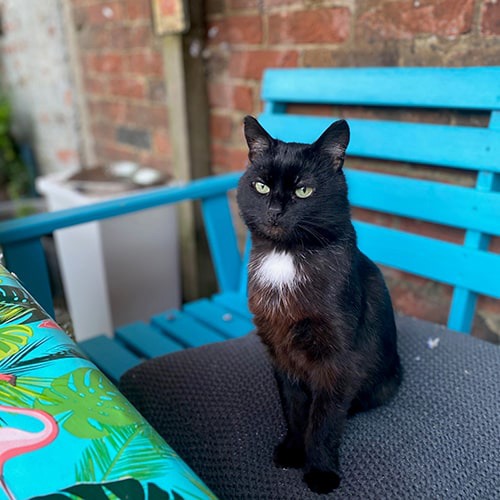 Seven-year-old Wilfey was resident at Cats Protection's Mitcham Homing Centre, where his online profile was spotted by Claire Blekkenhorst and her son Cooper, aged 11, of Sutton, Surrey.
Claire said: "We are so in love with our Wilfey. He has bonded so specially with my son and follows him everywhere, including the bathroom. They have become very firm friends and sleep together every night. I'm sure Wilfey thinks Cooper's room is actually their room now.

"For a seven-year-old cat he is super playful and inquisitive. He loves watching the hands go round on the clock goes crazy playing with his beloved ball. He has loads of toys but, to be honest, his favourite game is to chase his own tail!
"He always wants to hang out with us and will sit with us if we are working at the table, which is a lot of the time during lockdown. We've let him in the garden a couple of times with us for a bit and he loves the sun in his face.
"We are so very grateful to Cats Protection for matching us with our boy Wilfey. We lost our first cat in January and I honestly couldn't imagine another cat coming in to our lives and being adored so much, but it turns out it is possible. Thank you so much for matching us with him. Wilfey is absolutely worshiped by us all."
Photos and descriptions of cats available to rehome as part of the Hands-Free Homing scheme are posted on the website of centres taking part in the pilot.
If a match is made, Cats Protection will arrange a virtual meet-up via phone or video call to confirm suitability with a simple welfare questionnaire and undertake the necessary checks.
Once the adoption fee has been paid, the cat will be delivered to its new home in a Cats Protection van, with social distancing rules strictly observed at all times. Cats available to rehome are vaccinated and microchipped and a special aftercare package includes follow-up calls in the first weeks to ensure that the cat and its owner are both happy.
Hands Free Homing is being rolled out to other Cats Protection centres and branches nationwide in coming weeks, to help cats waiting for homes and give prospective owners a chance to adopt and enjoy feline company as the lockdown continues. All other homing activity from branches and centres outside the trial will remain on hold.
Cats Protection Director of Operations Mark Beazley said: "Hands-Free Homing has been such a success, with cats being reserved soon after their profiles are live. Clearly we have hit upon a desire among many people who would like to rehome a cat but have been prevented from doing so due to the restrictions.
"Our scheme not only helps us to find loving homes for the cats in our care, but also provides much needed companionship for people. These times demand that we all find new ways of working to remain #HereForTheCats."
If you think you could be the purrfect match for one of Cats Protection's lovely moggies, visit https://www.cats.org.uk/adopt-a-cat

Ends
For more information, contact Cats Protection Media Office
Media.Office@Cats.org.uk / 01825 741 911