A stray cat has had a 12cm diameter growth removed thanks to volunteers at Cats Protection's Gwent Branch.
Branch volunteers were alerted to Mr Bumps' plight when concerned residents in Fairwater, Cwmbran, posted photos on Facebook showing the large lump hanging from his chest.
­Glynis Davies, co-ordinator of Cats Protection's Gwent Branch, said: "Just like his namesake from the Mr. Men series of children's books, Mr Bumps has definitely been in the wars.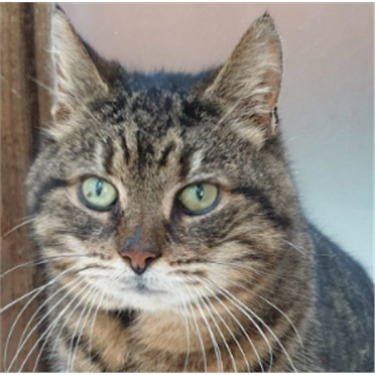 "The growth on the lower part of his chest was 12cm across and was quite heavy.
"It was grazed and bleeding because it was dragging on the ground, but the vet said it would have been uncomfortable for him rather than painful.
"Poor Mr Bumps must have found it difficult to sit or lie down and to carry the extra weight around."
With the help of a member of the public who had spotted Mr Bumps in her garden, Cats Protection volunteers caught Mr Bumps at about 9pm on Friday 1 February 2019 and took him straight to Summerhill Veterinary Centre, Newport, for treatment.
The fatty lump was successfully removed that night and thankfully Mr Bumps has made a full recovery.
He's currently in the care of a Cats Protection volunteer fosterer but is looking for a permanent new home.
Glynis said: "Mr Bumps has healed really well and is loving life off the streets in his foster home - so we hope life will be a bit less bumpy for him from now on.
"I'm sure he's feeling much better now the huge lump has been removed!
"He wasn't microchipped or wearing a collar - and no one has come forward to claim him. So we're hoping someone will want to give him a great new home.
"We're looking for a quiet household for him as we think he may have spent a long time living outside.
"He's about four years old, is very affectionate and loves a fuss. He'll make someone a fantastic companion!"
If you're interested in adopting Mr Bumps, you can contact the branch by calling 0345 371 2747 or email info@gwent.cats.org.uk
-Ends-
For further information or an interview, please contact Cats Protection's Media Office on 01825 741 911, at media.office@cats.org.uk, or @CPMediaTeam on Twitter.
Images are available of a now-recovered Mr Bumps and a photo of the lump once it had been removed. Please note there are no photos available of Mr Bumps before the operation.