A quartet of kittens discovered in a bin by a workman and handed in to Cats Protection may have been unknowingly transported from Scotland.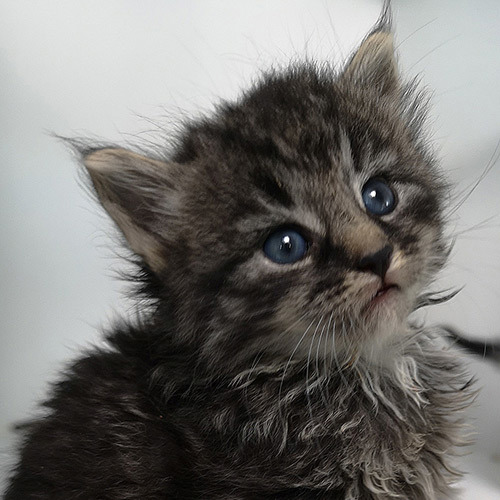 The litter are now in the care of the charity's Coleraine District Branch, where a volunteer fosterer is dedicating her time to raise the youngsters.
The young cats were found at a workplace that imports from Scotland, leading rescuers to believe they made the trip across the water.
It is the second lot of kittens that have turned up under mysterious circumstances, as another pair were rescued from the same place recently.
"Smudge and Tillie were just a week old when they were discovered but volunteers were able to nurture them and take them through a socialisation process which meant they were successfully rehomed together," said co-ordinator Alison Hagan.
The current four now in the care of Cats Protection are three males and one female – named Hamish, Seamus, Archie and Bonnie - and are thought to now be around five weeks old.
They all appear to be healthy but they will be given blood tests, veterinary examinations and the necessary vaccines before they are declared ready for adoption.
The appearance of more abandoned kittens brings home the message that cat neutering is essential to keep the cat population under control.
Hard-working volunteers at the Coleraine District Branch can often be seen out and about doing vital Trap, Neuter and Return (TNR) duties.
TNR work prevents feral colonies and community cats - who can be seen as a nuisance - breeding out of control by taking them in, neutering and returning them to places they feel safe.
Alison added: "Cats Protection believes that population control for cats is vital, as felines are prolific breeders. One unneutered female cat could potentially produce up to 18 kittens a year, and owners who do not neuter their cats may unwittingly be contributing to more cats being abandoned in the future."
Cats Protection runs a Northern Ireland-wide scheme which enables cats to be neutered for £5 for owners on low incomes. Anyone eligible will receive a voucher to redeem at participating vets.
For further information on the scheme visit https://www.cats.org.uk/what-we-do/neutering/neutering-campaigns/ni or call 03000 12 12 12.
~ Ends ~
For media enquiries please contact media.office@cats.org.uk or call 01825 741 912.