A pregnant cat was dumped and left for dead in a bin bag by the side of the road.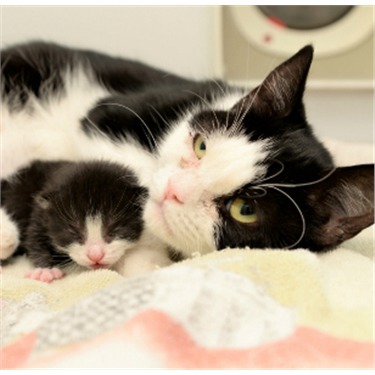 The cat was discovered in Pontycymmer when children in a nearby garden heard her meows and alerted their father.
"The children's father went to investigate and found the cat inside a plastic bin bag - which had been tied in a knot to seal it," said Sue Dobbs, manager of Cats Protection's Bridgend Adoption Centre.
"This was on Good Friday, the hottest day of the year so far.
"Temperatures reached 21ºC so it would have been extremely hot inside the bag and the poor cat inside had no escape route.
"It's unlikely the cat would have survived for much longer if she hadn't been discovered when she was."
The member of the public took the cat – now named Friday after the day she was found – to Cats Protection's Bridgend Adoption Centre in Pant Hirwaun, Bryncethin.
One-year-old Friday was treated for conjunctivitis and cat flu and on Saturday 4 May she gave birth to a black-and-white kitten. The kitten has been named Saturday.
Sue said: "Friday was clearly traumatised by her ordeal when she first arrived but she soon turned into a little sweetie.
"She's very chatty and has obviously been someone's pet at some point.
"Her kitten Saturday is a little miracle. Despite their terrible ordeal they're both doing well and Friday is proving to be a fantastic mum."
Friday and her kitten won't be available for adoption or reservations until they are ready to go to their forever homes after about eight weeks.
Anyone interested in giving them a new home can keep an eye out for them on the centre's website: www.bridgend.cats.org.uk/bridgend
You can also help the centre fund Friday and Saturday's care via Just Giving: www.bit.ly/2JdxJF7 or by texting BRID to 70577 to donate £5.00 (text donation terms and conditions can be found at www.cats.org.uk/sms-terms).
Sue said: "I urge anyone who is no longer able to care for their cat or kittens to get in touch with us.
"We understand that life can change drastically and rapidly, so there's no judgement when cats and kittens are handed over to us - we just want them to be safe and well.
"It also helps if we can be given as much information about the cat's history, personality and likes and dislikes that we can pass on to future adopters."
This year Cats Protection's cat care assistants - who help look after cats like Friday and her kitten - are being supported by players of People's Postcode Lottery, who have raised just over £1million for the charity to-date.
~ Ends ~
A video clip of Friday and Saturday is available on request.
For further information or an interview, please contact Cats Protection's Media Office on 01825 741 911, at media.office@cats.org.uk, or @CPMediaTeam on Twitter.