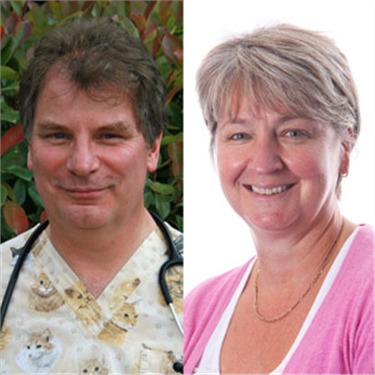 Dr Kit Sturgess, FRCVS, and Nikki Butcher have been appointed by Cats Protection to sit alongside seven fellow volunteers to steer the governance of the charity.
The owner of an 11-year-old silver tabby cat called George, Dr Sturgess is a recognised specialist in small animal internal medicine and was drawn to the role by his long standing interest and experience in feline medicine and a desire to improve cat welfare.
"Cats have been a rather 'second-class' animal in the vet world for a long time, with far more research being dedicated to dogs," explained Dr Sturgess
"Cats can also be much harder to read, being extremely adept at hiding pain and stress, so I really want to help people to understand their felines companions better in order to improve cat welfare."
Kit has written a book on feline internal medicine and currently undertakes part-time clinical work, which allows him the flexibility to carry out a range of education work, from lecturing all over the world to assisting with teaching science at his local primary school.
He also holds a number of other Trustee and volunteer roles across the charity and animal sector, including Treasurer for the Royal College of Veterinary Surgeons.
Nikki owns two cats called Bluebelle and Oscar and Nikki brings with her a wealth of project management and voluntary experience.
Nikki recently stepped down from work, having travelled across Europe overseeing the installation of a new software system for a global company in her most recent job role.
She has been involved with Cats Protection's Bracknell & Wokingham Districts Branch for the past 13 years, as a supporter and fundraiser and later as a volunteer fosterer and branch committee member, and has also served on the charity's Advisory Council for the last three years.
"Having been involved with Cats Protection for a number of years, I'm really excited to be taking on this new role now that I have more time to dedicate," said Nikki.
"As a Trustee I'll be learning more about the wider workings of the charity and working with my colleagues to overcome any challenges in order to continue improving cat welfare.
"It's exciting to think about how the charity will develop over the next 10 years, into our 100th year and beyond, and I'm eager to use my knowledge of project planning and delivery to support the charity in helping even more cats."
Linda Upson, Chair of Trustees at Cats Protection, said: "We are delighted to welcome Kit and Nikki onto our Board of Trustees. Together they bring a wealth of experience, which will be a great benefit in shaping the future of Cats Protection and helping us continue to improve the lives of cats across the UK."
Cats Protection is the UK's leading feline welfare charity, helping around 200,000 cats each year through its national network of over 250 volunteer-run branches and 34 centres.
More information about the work of Cats Protection can be found at www.cats.org.uk
~ ends ~
For further information or an interview, please contact Cats Protection's Media Office on 01825 741 911, at media.office@cats.org.uk, or @CPMediaTeam on Twitter.