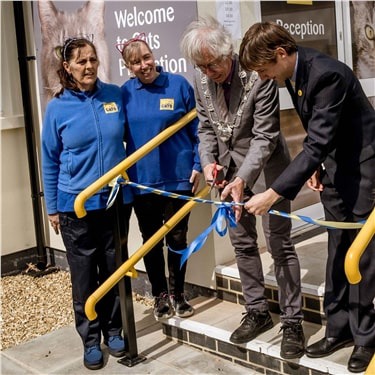 Two of the three-week-old kittens have been named after Ryde Mayor, Malcolm Ross, and Cats Protection's Chief Executive, James Yeates, who cut the ribbon at the unveiling on Saturday 14 April.
Along with Malcolm and James, the two other kittens have been named Raffle and Ryde.
"All four kittens are being wonderfully cared for by their mum, Gracie. They're all doing really well and will be ready for homing in five to six weeks," said Mel Read, who has been the Manager at Cats Protection's Isle of Wight Adoption Centre for 32 years.
"With 27 kittens currently in our care, kitten season is well under way. The money raised from the open day (over £700) will help with covering the costs of caring for them until they are ready for homing.
"The open day was such a success and we were overwhelmed by the amount of people who turned up to support us. It was a lovely day and we were honoured that Cllr Ross could join us."
Alongside the unveiling ceremony, visitors were able to take part in behind-the-scenes tours, meet the feline residents, browse the charity's on-site shop and enjoy many homemade cakes and refreshments.
Cllr Ross said: "I thoroughly enjoyed my time visiting Cats Protection for the unveiling of their new admin and reception areas and am thrilled to have a cat counterpart named after me. Cats Protection is a fantastic charity where all of the volunteers and staff work incredibly hard to ensure the cats are cared for to the highest standards."
Cats Protection's Isle of Wight Centre has many cats in care all looking for new homes. Anybody wishing to adopt a cat should call the centre on 03000 120 251 or email IsleOfWight@cats.org.uk. Alternatively, to find their nearest branch or adoption centre, visit https://www.cats.org.uk/adopt-a-cat
For more information about the work of Cats Protection's Isle of Wight Adoption Centre, along with cats needing new homes, please visit: https://isleofwight.cats.org.uk/
~ Ends ~
For further information or an interview, please contact Cats Protection's Media Office on 01825 741 911, at media.office@cats.org.uk, or@CPMediaTeam on Twitter.
Notes to Editors:
Cats Protection is the UK's leading feline welfare charity, helping around 200,000 cats each year through its national network of over 250 volunteer-run branches and 36 centres.
Cats Protection's vision is a world where every cat is treated with kindness and an understanding of its needs.
Cats Protection's registered charity number is 203644 (England and Wales) and SC037711 (Scotland). Founded as the Cats Protection League in 1927, the charity adopted the name Cats Protection in 1998. We ask that you use the name Cats Protection when referring to the charity in all published material.