Rescue cat Vince – who has been given up for adoption twice in a few months – has been dubbed the most unlucky cat in Hampshire.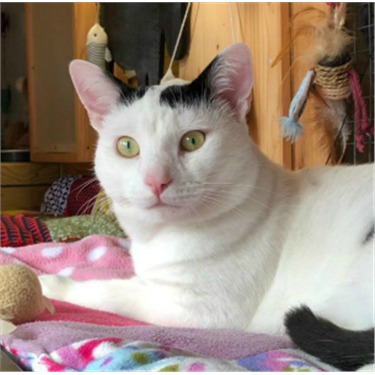 White-and-black Vince first came into the care of Cats Protection's Gosport Branch in March after his owner could no longer care for him.
He was adopted in mid-April, but Vince's new owner had no choice but to return him to the branch a month later as he wasn't settling in with young children in the home.
Kate Stapleford, a volunteer at Cats Protection's Gosport Branch, said: "Poor Vince really wants to be in his forever home – he's had so many ups and downs, he must be the unluckiest cat in Hampshire!
"We think he would be best suited to an adult home. He loves cuddles, attention and playtime – feathers on a stick and catnip mouse toys are his favourites! He loves his food and treats and also the great outdoors.
"Vince is a fantastic cat so we're calling for anyone who thinks they could give him a home to get in touch!"
Two-year-old Vince has been health-checked, vaccinated, neutered and microchipped and is desperate to find his perfect new home.
Anyone interested in adopting Vince and giving him the 'happy ever after' he deserves can call Cats Protection's Gosport Branch on 02392 582601 to find out more.
-Ends-
For further information or an interview, please contact Cats Protection's Media Office on 01825 741 911, at media.office@cats.org.uk, or @CPMediaTeam on Twitter.