Town Crier Billy Baxter was on hand to officially announce the opening of the new Cats Protection shop in Llandudno, ensuring everyone in town heard the good news!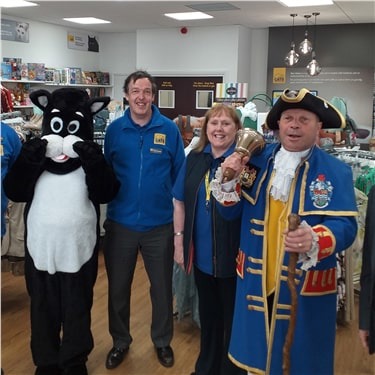 Shoppers turned out in their droves for opening of the store in Mostyn Street, where staff and volunteers have been busy setting up eye-catching displays of donated items.
Mr Baxter, a blind veteran, who holds the landspeed record for the fastest blind person, was happy to turn out to support the charity, himself the proud owner of a cat called Mrs Spidlington.
Other dignitaries at the event included Town Councillor Ian Turner, whose own feline was a previous winner at the Cats Protection Cat of the Year Awards.
His ginger cat Mr Chips was honoured for helping him through some difficult times, both physically and mentally. Mr Chips has sadly passed away, and Mr Turner has a new furry pal, named Spike.
The shop will be supporting the work of the Colwyn and District Branch of Cats Protection, who work tirelessly to rescue, rehabilitate and rehome cats, as well as educate on all aspects of cat welfare, including neutering.
Area Retail Manager Jane Dutton said: "We would like to thank the people of Llandudno for coming out and supporting us on our opening day.
"We look forward to welcoming customers over the coming months and years, and always welcome new volunteers looking to gain retail experience."
To find out more about volunteering at the shop, or donating goods, please email bury.shopmanager@Llandudno.org.uk
~ Ends ~
For media enquiries please contact the media office via media.office@cats.org.uk or by calling 01825 741 911.