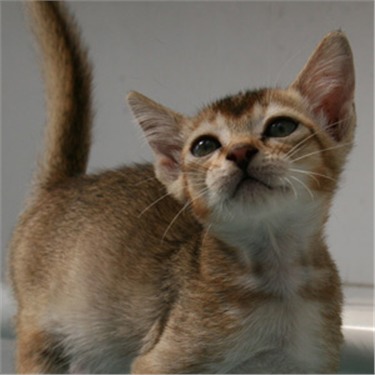 A male tabby-and-white cat was discovered in the hold of a flight from Saudi Arabia in April and just a few weeks later a young kitten was discovered in a suitcase full of mangos, pineapple and rice.
The suitcase owner who had arrived from India recognised the friendly kitten as belonging to his maid and said it must have been on two flights.
"It's extraordinary how both these cats survived their long journeys with little ventilation – especially the kitten," said Beverley Russell, Cats Protection's Operations Support Manager. "We can only assume she ate some of the food in the suitcase so she's been given the name Mango. Both cats are now in quarantine and we'll be rehoming once they're out - unless we can trace the owner of the Middle Eastern cat who we've called Saudi."
According to airport staff, the older cat was clearly distressed after travelling over 3,000 miles from the Middle East and proved difficult to trap.
As there was no record of any cats on flight SV113, it is thought he must have been a stowaway who sneaked on board at King Abdulaziz International Airport near Jeddah.
Saudi is not microchipped and so Cats Protection is appealing for anyone with information about his owner to come forward by contacting the charity's National Information Line by emailing info@cats.org.uk or calling 03000 12 12 12.
The charity is also appealing for contributions to the quarantine fees for both cats as Cats Protection is reliant on public donations.
Those wishing to help can text QUAR56 with the amount to 70070 (example QUAR56 £5 to 70070) or visit: www.justgiving.com/catsprotectionquarantineappeal
Click here to view photos of both cats
- Ends -
For further information or an interview, please contact Cats Protection's Media Office on 01825 741 911, at media.office@cats.org.uk, or @CPMediaTeam on Twitter.