Fourteen volunteers are celebrating a combined total of over 280 years volunteering for Cats Protection's Chelmsford Adoption Centre.
Each of the cat-loving volunteers were presented with commemorative cat statues to celebrate dedication to the charity at an afternoon tea in Great Baddow Millennium Community Centre, led by the charity's Director of Operations, Mark Beazley, and Regional Centre Operations Manager for Eastern England, Guy Chadwick.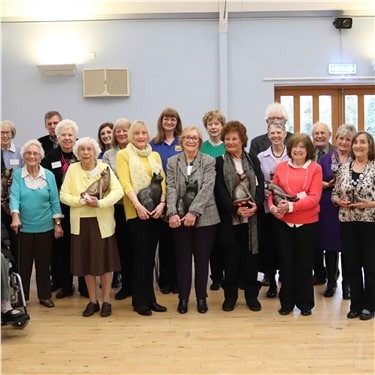 Sandra Roulston; Star Fergus; Jennifer Dodson; Joan Richardson; Naomi Hartard and Joy Yelf-Gustar all received a bronze duo of kittens for their commitment and Jo Gifford; Pat Gisbourne; Jenny Nichols; Charmaine O'Donnell; Joyce Gaze and Sheila Ayling received a bronze cat. An exclusive Murphy Award was presented to Jackie Jennens and Christine Davenport, which is a life-size black cat statue presented to volunteers who have dedicated over 25 years to Cats Protection or who have made an exceptional contribution to the charity.
John Mimpress, whose home already has a Murphy Award after it was presented to his wife Margaret last year, chose to receive a certificate of thanks for his long-standing dedication to the charity rather than add another Murphy to the household.
Jackie Jennens, who has volunteered for Cats Protection since 1981, says: "I started volunteering after seeing an advertisement asking for help at the local shelter which eventually became a branch. I helped initially by cleaning the cat pens then moved into fostering, humane trapping of strays and ferals as well as hand-rearing kittens. Before long I was branch co-ordinator and when the adoption centre was built I moved to become committee chair.
"I most enjoy spending time with the cats and the great company. I have made life-long friends and would urge anyone who loves animals and wants to do some good to come and see us."
Guy Chadwick said: "I have been astounded by the contribution our volunteers have given to Chelmsford Adoption Centre. Without them, the help that thousands of cats across the area have received would not have been possible. We hope the statues serve as a permanent reminder of our gratitude."
The afternoon was arranged by Volunteer Team Leader Nicola Harle, whose role unites volunteers across the area and is being funded this year by players of People's Postcode Lottery. Anyone interested in volunteering should contact Nicola directly on Chelmsford.volunteering@cats.org.uk or by calling the centre on 01245 478389.
~ Ends ~
For media enquiries please contact media.office@cats.org.uk or call 01825 741 911