Anxious cat Angel finally finds the forever home she deserves.
This post has been written by our Anglia Coastal Branch
Angel came into our care after her owner had to move away for work and couldn't take her with her. She was in our care for quite a while. A vet check showed she was healthy but she didn't like being stroked for long and would suddenly lash out when she was feeling anxious. For that reason we wanted to home her to a family without children.
We were so pleased when she was eventually taken on by a couple called Linda and Russell. They had previously been looking after a feral cat, which naturally they hadn't been able to touch but provided food for the cat. So Linda contacted us after deciding to try and rehome a 'challenging' cat! She explained that she wanted to give another cat the same chance as the feral cat she had been looking after.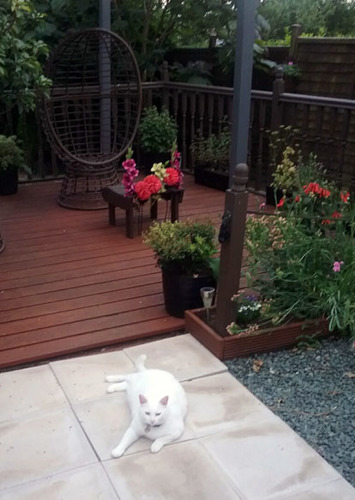 Angel relaxing in her new garden
Linda spotted Angel on our website and decided to give her a loving environment but where she didn't feel the pressure of being a family cat. She explained to us that Angel would have access to the outhouse with her own cat flap, bed and all other resources she needed.
When they adopted Angel home and took her home – and, being aware she needed to be kept in for a while to adjust to her new surroundings – they was amazed when Angel instantly took to Linda's husband, Russell! They sent me some photos of Angel happily cuddled up on his lap!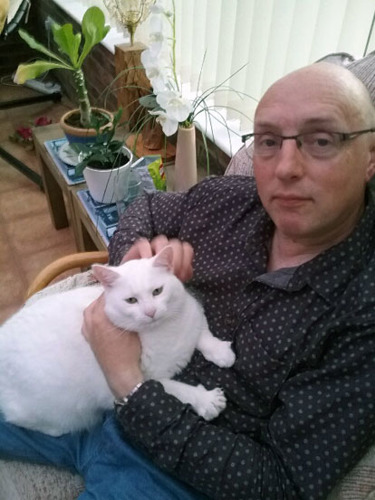 Angel enjoying Russell's company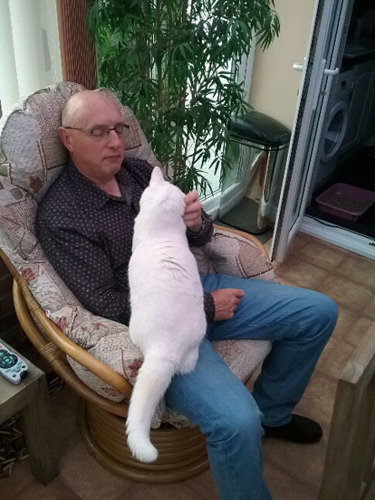 Angel at home with her new owner Russell
They discovered that with lots of stimulation with her cat toys,* she became less likely to lash out at them. This is because mental stimulation is a great stress reliever. Although Linda was the one who fed her etc, she still preferred Russell!
It just goes to show how a dedicated cat owner can really transform the lives of some of the most difficult cats!
Veterinary note: It's great to hear that with a little patience and sensitivity, Linda and Russell were able to help Angel to overcome her anxiety. Some cats are naturally more anxious than others, but timid behaviour can also be caused by a lack of contact with humans, especially during the socialisation period (during their first eight weeks of life) or a previous frightening experience that has made the cat fearful.
*Small toys you can gently throw, such as balls of foil, scrunched up paper or ping pong balls are great to start with – and fishing rod toys with feathers at the end allow the cat to interact without them feeling threatened by close contact. It helps to form positive associations with the owner and over time create a bond between them.
Find out more about nervous or aggressive cats.