Kim-Joy and Tom Anderson's baking recipes for cat lovers
Spring is almost here and across the UK, cat lovers are preparing to bake a difference for cats and kittens in need with Pawsome Afternoon Tea.
Make sure you're a part of it this April and get your paws on your free Pawsome Afternoon Tea party pack by registering now at www.pawsometea.org
Kim-Joy's cat-shaped biscuits
This year, Kim-Joy who was runner up in 2018's Great British Bake Off, is supporting the cause and has contributed two special recipes to help you impress your guests.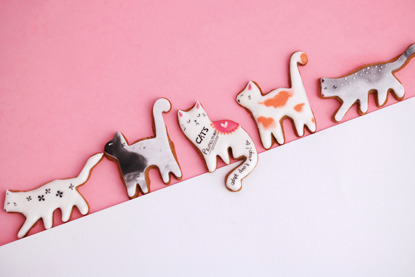 Kim-Joy's adorable ginger biscuits
Known for her cute and creative bakes that often incorporate a feline theme into the design, Kim-Joy has recently adopted two rescue kittens of her own so is thrilled to support Cats Protection.
Kim-Joy said: "My two kittens Inki and Mochi are just the best! I've always been moderately chilled, but these two boys make me more chilled out. Cats are good for our mental health as they are so lovely, affectionate and cuddly. There are many adorable cats out there looking for furever homes so please consider adopting not shopping if you want to get a cat!"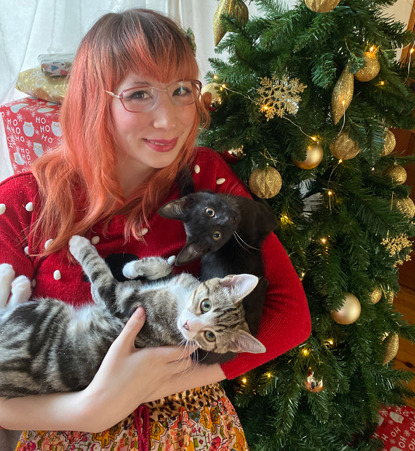 Kim-Joy holding her two kitties, Inki and Mochi
Kim-Joy's ginger cat biscuit recipe would make the purrfect centrepiece for your Pawsome spread, and she has even created a vegan version so you can cater for everyone. Delicately decorated with beautiful cat designs, they almost look too good to eat!
Download Kim-Joy's ginger biscuits recipe 
Download Kim-Joy's vegan ginger biscuits recipe 
Tim Anderson's oatmeal crispies for cat lovers
MasterChef 2011 winner Tim Anderson is also supporting Pawsome Afternoon Tea. He's a proud cat dad to magnificent moggie Baloo and has contributed his Grandma Jeanne's recipe for oatmeal crispies to inspire cat lovers to get baking for kitties.
Tim said: "My cat Baloo provides endless support and humour, whether it's sitting on my lap for a cuddle or jumping onto my open recipe books to distract me! It's sad to think that there so many lovely cats out there who don't yet have a home so I hope cat lovers and baking enthusiasts really get behind Cats Protection's campaign."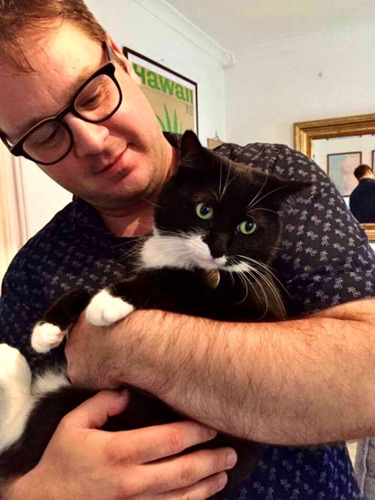 Tim Anderson and his cat Baloo
Download Tim's oatmeal crispies recipe
For more information about Pawsome Afternoon Tea and helpful resources to help you be the host with the most, visit www.pawsometea.org