Pet sitting offer this Christmas from TrustedHousesitters.
It's nearly Black Friday! So if you're shopping for the best discounts this festive period, why not sign up with our partner TrustedHousesitters and receive 25% off their annual membership fee?
Christmas is fast approaching and you may be wondering who will look after your pets when you travel to see family over the festive period.
Cats Protection's partner TrustedHousesitters may well have the solution you have been searching for. And what's more, you can save a limited time only Black Friday 25% discount off an annual membership from 21-28 November! So whether you're looking for a sitter or to be a sitter, don't miss out and sign up between these dates to claim your discount and keep your pets happy this Christmas!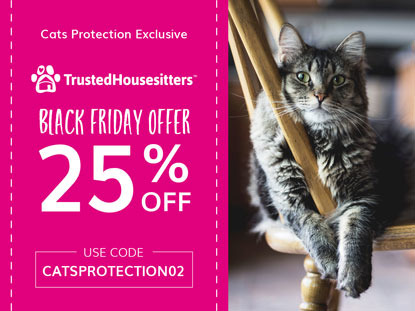 We appreciate that leaving your pets when you go away can be a stressful time for both you and them. This is why we have partnered with TrustedHousesitters to help you keep your cat and any other pets you own happy and healthy at home when you travel. They offer the perfect solution to help avoid the stress and worry of who will care for your pets while you are away.
How to sign up
It's easy to sign up for an annual TrustedHousesitters membership online. Simply visit the TrustedHousesitters website and sign up as either a 'Home and Pet Owner' or a 'Housesitter'.
To claim the limited time only 25% membership discount, make sure you use the code CATSPROTECTION02 at the checkout.
You will also be supporting Cats Protection too, as TrustedHousesitters will make a donation to Cats Protection for every new membership using this code.
Happy holidays!