Our latest live Facebook Q&A session was hosted by Neutering Manager Jane Clements. Here she explains how much it costs to neuter your cat and why the procedure is good for cats – and their owners too!
Do you want to know more about neutering? Cats Protection Neutering Manager, Jane Clements, hosted our latest Facebook Q&A session and here are just some of the questions she answered:
Question:
How much will it cost to get my three-year-old tom 'done' and also microchipped?
Answer:
The costs of neutering and microchipping are variable depending on geography and vet prices in your area. Typically neutering a male can vary from £40-£80. I would recommend phoning the vets in your area and asking them what their prices are.
Question:
We have a 16-week-old female cat. When is the best age to have her neutered?
Answer:
She can be neutered at 16 weeks old. You can find a list of vet practices who will neuter from four months old here: https://www.cats.org.uk/what-we-do/neutering/find-a-vet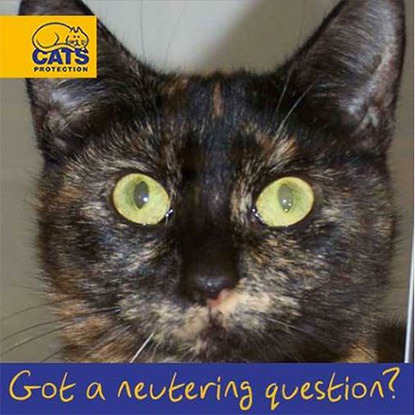 Question:
Is it illegal to get someone else's cat 'done'? There's a stray in the area – an 'intact' male but there's a rumour he has an owner. My neighbour and I would like to get him the snip but don't want to get sued or something! He mainly lives outside and he fights a lot, would getting him neutered risk his health in any way? I don't want to make things worse for him!
Answer:
It is important to do all you can to ensure a cat doesn't have an owner before you get him neutered. Often cats believed to be strays do actually belong to someone local. You could ask around the local area, put posters up or post a picture online (see if your local CP branch has a Facebook page) and see if anyone comes forwards. If nobody comes forward you can take him to a vet where he will be scanned to ensure he isn't microchipped before neutering surgery happens. Once you have taken all reasonable attempts to find an owner, you could book him in for neutering.

Neutering has many health benefits for cats, see our Essential Guide: Neutering – family plan for felines leaflet. The vet would also undertake a health-check before any neutering surgery was carried out.
Question:
How can I persuade someone to get their cat neutered when they're completely ignorant?!
Answer:
Please see our Neutering – family plan for felines leaflet (link above). This leaflet is also downloadable in different languages. If you would like one posted to you, you can call our National Helpline on 03000 12 12 12.

You could also have a look at our neutering visual guide below which discusses many reasons why neutering a cat is good for their health, welfare and their owners too!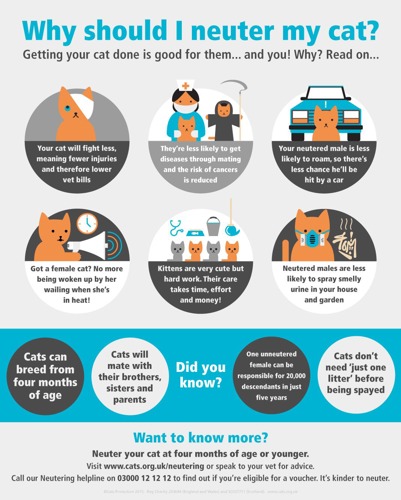 Question:
My little lady will be neutered in October. I would just like to know how long she will be in pain for following the procedure as I'm dreading it! What can I do to make her more comfortable? Will she stay at the vets overnight?
Answer:
When your cat is admitted to have her operation, your vet will go through all of these things with you. Painkillers are usually given before the operation and post operatively. Depending on the timing of her operation, she will probably not need to stay in overnight, but your vet can advise on all of these specifics. Try not to worry, neutering is a routine procedure and your vet will do all that can be done to make sure she is comfortable.


Please note that we are unable to give specific advice on your cat's health or any change in behaviour observed. For medical problems consult your vet who will have access to your cat's medical history and will be able to examine them. You'll find more information about cat care and behaviour here.

Would you like to ask one of Cats Protection's feline experts a question about your cat? Don't miss the next live Facebook Q&A sessions: Vet Vanessa Howie will be answering veterinary questions on 6 August; behaviour expert Nicky Trevorrow will host the Q&A on 14 August; and Neutering Manager Jane Clements will there on 10 September. Every live Q&A is on our national Facebook page from 2-3pm. See you there!