Meet the courageous fundraisers who are embarking on a four-day challenge event in India! 
This week is Big Cat Week at Cats Protection so we're calling on adventure-seekers to take part in a once-in-a-lifetime challenge in India.
The trip sees participants completing a challenging four-day trek across the Lesser Himalayan Range, and taking part in conservation work at the Kanha National Park (full itinerary here). All sponsorship goes towards helping unwanted cats in our care.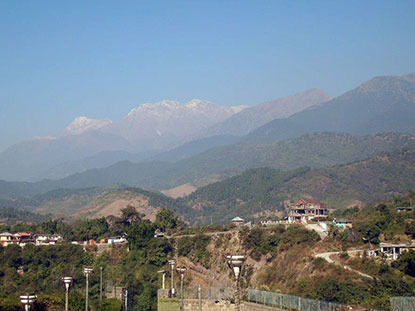 These are the kind of beautiful views that can be seen on the challenge
Participants are completing a four-day trek to raise funds for Cats Protection
First to sign up for the challenge was Kelly Eyre from Flintshire in Wales. Kelly worked as a Cat Care Assistant at Cats Protection's Wrexham Adoption Centre for three years before studying to become a vet nurse. She now works at the vet practice that looks after the cats in the centre's care and has adopted a couple of unwanted moggies of her own, called Jelly and Smokey, over the last couple of years.
As well as raising much-needed funds, Kelly says she hopes that training for her Indian adventure will help her to shed a few pounds and improve her fitness.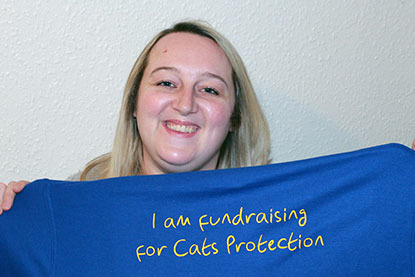 Kelly Eyre will be embarking on the challenge
"Anybody who knows me will know full well that I do not like walking up hills or any slight incline, and I can't even make it to the top of [the highest hill in the Flintshire Range] Moel Famau!" said Kelly. "It's about time I challenged myself and, when this opportunity arose, I thought it was the ideal thing to inspire me to get fit while raising money for Cats Protection at the same time.
"Having worked at the Wrexham Centre I know full well how hard the staff and volunteers work to help cats in need and it will be really nice to give them a much-needed boost."
Another plucky cat lover who has signed up to the challenge is Hannah Bolam from Morpeth in Northumberland. All of her sponsorship money will go to our East Northumberland Branch.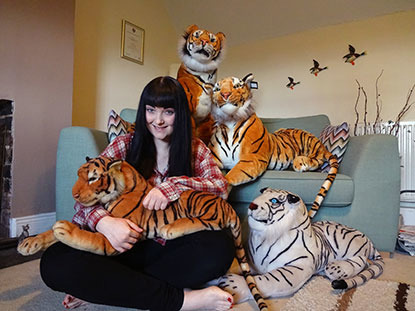 Hannah Bolam says cats are her world
Hannah said: "I have been looking to do a memorable trip abroad and when I came across this one, it was ideal because it combined a trek and tiger conservation experience with supporting Cats Protection, which I have donated to in the past.
"I'm so excited to be a part of it! And the fact it's for the Cats Protection charity couldn't be better, cats are my world!"
To help the ladies reach their fundraising targets, you can sponsor them via JustGiving. You can sponsor Kelly at www.justgiving.com/Kelly-Eyre1 and Hannah at www.justgiving.com/hannahs-tiger-trek
"This is a golden opportunity for cat lovers to get close to big cats in India, while raising vital funds to help little cats back home," says Cats Protection's Fundraising Events Manager Rebecca Worth who is promoting the trip. "It promises to be the trip of a lifetime – challenging, fun and incredibly rewarding."
"We are hoping to sign people up as early as possible so that they have plenty of time to meet the required fundraising target and we will support them with hints, tips and ideas. Anyone of average fitness can take part, with a little preparation, so we'd love anyone who's interested to sign up today, get fundraising, and show big and little cats just how much they care!"
To sign up or request further details please email rebecca.worth@cats.org.uk or visit https://www.cats.org.uk/support-us/events
If you'd like to see what else we've been up to in Big Cat Week and how you can support us, join the conversation on Twitter by using the hashtag #bigcatweek.